Caerlaverock Castle, Dumfries
The B735 leads past the imposing ruins of Caerlaverock Castle (8mi/13km to the southwest) which was once the home of the Maxwell family. The castle dates from 1270 when the English established a bridgehead here in order to mount an invasion of the rest of Scotland. The triangular fortress plus drawbridge and water-filled moat was altered in the 15th century and a double-tower gate house was added.
Important Information:
Address:
Longmore House, Salisbury Place, Jedburgh TD8 6JQ, Scotland
Disability Access:
Full facilities for persons with disabilities.
The Nithsdale Apartments and ornate Renaissance facade on the east side of the castle originated in the 17th century when, after the Union of Crowns in 1603, the castle became more a residence and less a fortification. The first Earl of Nithsdale improved the appearance of his home by adding heraldic symbols and pointed or round window and door pediments. A few years later, however, the interior was abandoned after an attack by the Covenanters. It is thought that "Ellangowan" in Scott's "Guy Mannering" is modeled on this moated castle.The nearby marshland is a haven for swans, ducks and wading birds and in the winter thousands of Brent geese come here to breed.For ornithologists the best time of year to visit Caerlaverock is January and February. There are other sights nearby which are also worth a visit, including Carsethorn and Southerness Point. Check with the local authorities regarding entrance limitations.
Map - Caerlaverock Castle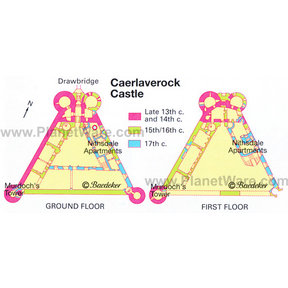 Map - Caerlaverock Castle
More Dumfries, Scotland Attractions
Popular Destinations Nearby