Surroundings, Århus
In the area north of Århus are historic castles and churches.Århus southern surroundings include a notable prehistoric museum recounting Danish history from the Stone Age up to Viking times.
Related Attractions
Skanderborg, Denmark
Leaving Århus town center in a southwesterly direction along Road No. 170 (with the E45 highway running parallel a little way to the northwest) the visitor will pass through the villages of Hasselager, Hørning and Stilling (by the lake of the same name) and after traveling some 22 km/14 mi will arrive at the town of Skanderborg, on the north bank of Skanderborg Lake (Skanderborg Sø).The town grew up around an old royal castle which medieval Danish kings often used as their residence. All that remains of the castle is a part of the south wing and the castle church (built ca. 1570, now a parish church), and a round tower from which there is a fine view. In the castle park stands a bust of King Frederick VI by the Danish sculptor Bertel Thorvaldsen. From Skanderbord a detour to Himmelbjerg is recommended.
Children's Festival
This annual day-long festival takes place in mid-August and includes musical performances, plays and other activities especially designed for younger ages.
Culture Week
This annual week-long festival takes place in late May to early June and includes art exhibitions, musical events and theatrical performances.
Skanderborg Festival
This annual day-long festival is Denmark's oldest and takes place in early June. Several easy-going musical concerts are held throughout the day.
Open Air Rock Festival
This annual four-day festival takes place in early to mid-August.
Surroundings
Town Festival, Ry
This annual four-day festival in Ry has been dubbed the most beautiful in Denmark and takes place in late June or early July.
Street Festival
This annual day-long festival takes place in late July and includes street parades, musical concerts and entertainment, as well as an outdoor market.
Prehistoric Museum
About 9km/6mi south of Århus (leaving along Strandvej) stands the Århus Prehistoric Museum, housed in the old Moesgård manor house. Here the visitor can gain an interesting insight into Denmark's history from the Stone Age up to Viking times. A particular attraction is the "Grauballe Man" (Grauballemann), a corpse dating back more than 2,000 years and perfectly preserved in a bog. The museum also houses the Institute of Prehistoric Archaeology and Ethnography of the University of Århus.In the open-air section of the museum a "Prehistoric Trail" ("Oldtidssti") has been laid out, leading through woods and fields and past reconstructions of prehistoric houses and burial mounds.Every year since 1977, on the last weekend in July, an open-air "Viking Event" (Vikingetræf) has been held on Moesgård beach. It shows the local Vikings returning in their ships from their summer raids and trading expeditions. Above all else, however, this event is a fun festival, with plenty to eat and drink and the Olaf market to visit.The museum is surrounded by a Manor house, a mill in the wood, and a Stave church.Although the vast majority of artefacts in the museum are Danish, there are also a few pieces from Bahrain and other areas of the Arabian Gulf.
Djursland Peninsula
Leaving Århus in a northerly direction and following the wide arc of Kalø Bay, the A15 road leads to the Djursland Peninsula to visit its castles and churches.
Hornslet - Rosenholm Castle
Near Løgten north of Århus a road branches off left to Rosenholm Castle. This 16th century Renaissance building has been owned for more than four centuries by the Rosencrantz family, an old Danish aristocratic line. The rooms are decorated with paintings and tapestries. There is a lake and a Renaissance pavilion in the park which is open to the public.
Round Church, Thorsager, Denmark
About 1 km/1,100 yd from the village of Rønde on Kalo Bay north of Århus a little road branches off on the left to Thorsager, the site of Jutland's only surviving round church, part of which dates from 1200. It is two-storied, with the vaulting of the lower story being supported on four columns. The upper story, reached by a winding staircase, was probably used as a gallery for the local nobility. Note the 1525 crucifix.The church is one of Denmark's seven medieval round churches.
Ebeltoft - Kalø Castle
The A15 runs from Århus to Ronde and from there a road leads southeast to Ebeltoft. To the right on a spit of land projecting into Kalø Bay can be seen the ruins of Kalo Castle (Kalø Slot), built in 1314 by King Erik Menved. At one time it was joined to the mainland by a drawbridge. Gustav Vasa, later King of Sweden, was held prisoner here in 1518, but escaped. On the return journey the visitor will enjoy a view of the peninsula of Mols.
Ebeltoft, Denmark
Ebeltoft, on the bay of the same name, is a charming little country town with a small Town Hall, the Farvegard, an ol dyer's workshop, and a Glass Museum. The 19th century frigate "Jylland" is anchored in the harbor. Ebeltoft also boasts a remarkable plant for the production of energy. On a pier extending 800m/875yd out into the sea stand a large number of "wind turbines", with a larger energy-converter on the land. This "wind farm" produces enough current in a year to meet the needs of several hundred private houses.
Ebeloft - Jylland Frigate
The Jylland frigate is a 19th century ship anchored in the Ebeltoft harbor. It was the first steam-driven propeller frigate and Denmark's last oak warship. It is sometimes described as the world's longest wooden ship. 14 of the ship's 42 cannons are originals.
Ryomgård - Djursland Railway Museum
The Djursland Railway Museum is located in a century old train depot. It houses more than 1000 objects related to the rail industry including a cycle trolley.
Surroundings Pictures
Map of Arhus Attractions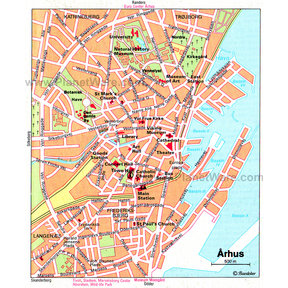 Arhus Map
Popular Destinations Nearby