Huayan Monastery, Datong
Huayan Si
The Huayan Monastery, to the west of the town center, is one of the few well-preserved sacred buildings from the Liao period (916-1125). Huayan was a school of Buddhist teaching, of which there were many at that time. In 1122 the monastery was destroyed and a new building soon replaced it. Basically, there are two separate complexes: Lower Monastery (Xia Huayan Si) and Upper Monastery (Shang Huayan Si). This division has been in existence since the 15th C. Both monasteries are famous for their religious works of art.
Entrance fee in CNY:
Adult
¥15.00
Related Attractions
Sutra Temple
The main hall of the Lower Monastery is the Sutra Temple (Boqijiao Cangdian), dating from 1038, which served as a library of Buddhist writings. There are at present 38 built-in cupboards (made during the Liao dynasty) which house some 18,000 volumes from the Ming and Qing periods (1368-1911). The main treasure of the hall are the 31 life-like clay altar figures which are arranged in three groups. They were made during the same time as the hall and represent Bodhisattwas, Buddha pupils and believers who are assembled around the Buddhas of the three Ages.
Hall of the Great Hero
The Upper Monastery is structured around the Hall of the Great Hero (Daxiong Baodian), built in 1140 to replace a former 11th C building that burned down in 1122. It covers an area of 1560sq.m/16,785sq.ft, making it one of the largest Buddhist temples in China. The wood and clay statues are from the Ming period (1368-1644). There are five Buddha statues, representing the directions (the center three are made of wood, the others of clay). The heads and upper bodies of the 20 heavenly guardian statues are bent forward about 15 degrees. All the temple walls are painted with murals; these cover an area of 887sq.m/9540sq.ft and portray the life and works of Shakyamuni, painted by the Dong An during the era of the Emperor Guangxu (1875-1908). The ceiling of 973 panels was decorated in the Qing era (1644-1911) with geometrical patterns and floral decorations.Another part of the temple houses the Municipal Museum.
Map of Datong Attractions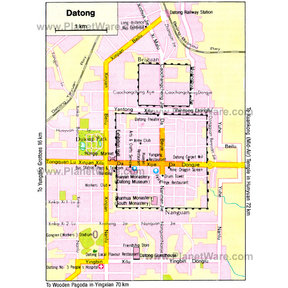 Datong Map
More Datong Attractions
Popular Destinations Nearby