City Center, Dallas
Many of the city center attractions are in close proximity to each other and can be explored on foot.
Related Attractions
Reunion Tower
Dallas's great landmark building is Reunion Tower. Reunion Tower was completed in 1978 and has a distinct look, appearing as a geodesic ball perched atop 5 cylindrical concrete poles. It rises 560 feet above the Dallas skyline, and at night it is lit up by 260 lights on its exterior. A nightly light show is provided for the citizens and visitors to enjoy.Reunion Tower underwent a 23 million dollar renovation in 2011 and today boasts of a gourmet revolving restaurant providing 360 degree views out over the Dallas skyline. It revolves once every 55 minutes so every seat in the restaurant is an excellent one. One of the most notable Dallas landmarks visible from the tower is the First Republic Bank Plaza standing proudly at an impressive 70 storeys high.
The Sixth Floor Museum
The presumed murderer of President Kennedy, Lee Harvey Oswald, is believed to have fired the fatal shots from the sixth floor of the Texas School Book Depository at the intersection of Houston and Elm Streets. Here now is the Kennedy museum known as the Sixth Floor, devoted to John F. Kennedy's life, work and death."John F. Kennedy and the Memory of a Nation" is the permanent historical exhibit that features the life, death, and legacy of the 35th U.S. president. Such as his 1960 presidential campaign, and his influence on current events. The exhibit features documentary films, historic footage, hundreds of photographs and artifacts.
Dallas Museum of Art
The Dallas Museum of Art has been a long standing institution in the city. Since it began in 1903 the museum has put together a strong collection of works from the Americas around the globe. The collection includes everything from ancient artifacts to contemporary art.The museum has done a good job of reaching out to the community through various programs and unique ways of offering interactive experiences for visitors.
Wendy and Emery Reves Collection
The Reves villa was re-created to house the 1,400 piece collection of Impressionist paintings, works on paper, Spanish and Middle Eastern carpets, Venetian glass, rare Chinese export porcelain, silver pieces, European iron and woodwork, and early Renaissance and 17th century European furniture.
Dallas Heritage Village at Old City Park
Dallas Heritage Village is spread out on 20-acres with numerous historic buildings, which consist of homes and commercial buildings. The structures, all from teh 19th C, were moved here from other parts of the state but are in fact original historic structures.
American Museum of The Miniature Arts (closed)
ATTRACTION IS CLOSED.Permanent exhibits include dollhouses, a miniature toy shop, a porcelain shop, a bordello and militaria (with replicas of toy soldiers dating from 300 B.C. to the current day).
Dallas County Historical Plaza
On Dallas County Historical Plaza is the log cabin (restored) in which John Neely Bryan is said to have lived.Nearby is the John F. Kennedy Memorial.
Medieval Times Dinner & Tournament
Visit a replica 11th century castle, enjoy a 4 course dinner without cutlery and watch jousting matches by knights on horseback. Visitors become part of the show at Medieval Times.
Samuell-Grand Park
Enjoy the wide variety of trees and flowers or take in a game of tennis on one of the 20 lighted courts. Samuell-Grand Park is home to the Samuell Grand Amphitheatre which hosts "Shakespeare in the Park" during the summer and fall.
Pioneer Plaza
On Pioneer Plaza near the City Hall stands a huge bronze sculpture. The work of Robert Summer in 1995, it depicts 70 Texas longhorn cattle and three cowboys.
Map of Dallas Attractions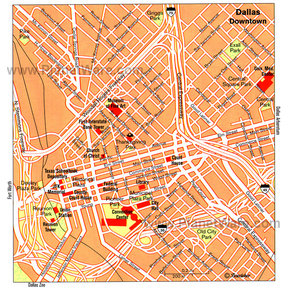 Dallas Map
More Dallas Attractions
Popular Destinations Nearby