Teplice Tourist Attractions
The town of Teplice has made a remarkable recovery from the problems which have plagued the city since World War II. The spa town was founded around the hot springs that were discovered here in the 8th Century. It is considered one of the oldest spas in Europe but the spa was not actually commercially developed until the 18th Century. Teplice was visited by such names as Beethoven, Liszt, Wagner, and Goethe.Following the end of the Second World War the German population which comprised most of the town was expelled. Even today many derelict buildings remain abandoned from this time period, giving the town a bit of a deserted feeling. The Communist Regime also took its toll on the Teplice but since 1990 restorations have been ongoing and the spa accommodation has been completely restored.Teplice has a pleasant main square, many parks and green spaces, and is home to the North Bohemian Philharmonic Orchestra and the Krusnohorske Theatre.
Surroundings
Monastery, Osek
The town of Osek is most notable for the 13th Century Cistercian monastery, at the edge of the Krusne Hory Mountains. The Church of the Ascension of the Virgin Mary, on the monastery complex was built in the early 13th Century as a Romanesque three nave church. However, in the early 18th century the church was reconstructed by Ottavio Broggio into a beautiful baroque creation. The gothic old convent contains a chapter hall built in the mid 13th Century. There is also a new convent, which holds the monastery's library.Other sites around Osek include the ruins of Riesenburg Castle and a monument dedicated to the victims of the Nelson Mine disaster.
Map of Teplice Attractions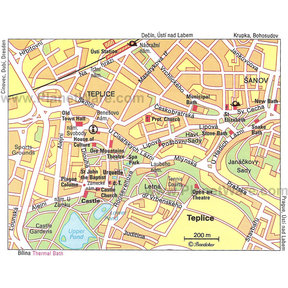 Map - Teplice