Tabor Tourist Attractions
Located south of Prague and north of Ceske Budejovice, the town of Tabor was established to be the center of the Hussite movement in the early part of the 15th Century following the death of Jan Hus. It was named after Mount Tabor in Palestine. The name Tabor became synonymous with this group, which eventually became known as Taborites. The history of the Hussite movement is explained at the Hussite Museum (Husiteske Muzeum) in Tabor, which is well worth a visit.The town has a beautiful main square (Zizkovo námestí) where visitors will find most of Tabor's attractions. Also of interest are the remains of a medieval Kotnov Castle (Hrad Kotnov) with a round tower. There is a small historical display inside the castle.
Hussite Museum in Tabor
The Hussite Museum in Tabor contains a huge number of artifacts related to the history of the Hussites. The museum has gradually acquired a number of buildings in Tabor and other areas where it displays its exhibits. In Tabor the museum's collection is displayed at the Old Town Hall, Kotnov and Bechyne Gate, House "U Tesitelu", and the Augustinian Monastery. At the Old Town Hall on the main square, visitors will find the Hussite Museum's Art Gallery, the history of the Hussites including Jan Hus, the establishment of Tabor as a base for the movement, and information on the Hussite military leader, Jan Zizka.In the Bechyne Gate the museum offers displays on everyday life in medieval society, including towns' people, the Church, and the aristocracy.
Main Square
On Tabor's Main Square (Zizkovo namesti) is where visitors will find most of the town's primary attractions. The square is named for Jan Zizka, a Hussite military hero. A statue of Zizka stands in the square next to the Church of Transfiguration of Our Lord. This church is worth having a look inside for its stained glass windows, and visitors can climb the church's tower for fine views over the town. Also on the Main Square is the 15th Century Town Hall, which contains the Hussite Musuem.One of Tabor's more unique features is the tunnel system below the main square which stretch on for 14km / 9mi. The tunnels are thought to have been used either for storage or as refuge from attacks or fires.


Map of Tabor Attractions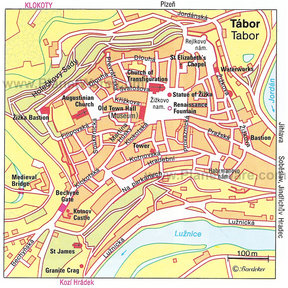 Map - Tabor