Opava Tourist Attractions
Although not a tourist hotspot, the industrial city of Opava has a few sights of interest to the passing visitor. The city was heavily damaged in the Second World War but fortunately several of the main churches were either spared or have been reconstructed. It is these churches and the lower square that compose most of the sights in Opava.Of note is the Silesian Gothic Cathedral of the Virgin Mary. This unique style of architecture dates from the mid 14th Century and some say it is somewhat ugly. The Church of the Holy Ghost (Kostel sv. Ducha) is known for its fascinating baroque façade. Done up in the unusual colors of pink and green, this church is worth a photo or two.An interesting spot to wander is Opava's lower square. Here travelers will find the former burgher houses done up in Renaissance style along with St Adalbert's Church, noted for its stunning interior.
Surroundings
Fulnek
Fulnek, a town of 6650 inhabitants is a pleasant place to connect with the real Czech people. Not on a real tourist route, Fulnek offers visitors a chance to see what life is like outside the major Czech centers. The town was originally founded in the late 13th Century and existed peacefully until it was heavily damaged in WWII.Since then Fulnek has been rebuilt with Renaissance homes in the original style. They can best be seen on and around Comenius Square in the center of town. Fulnek also boasts of a large baroque castle on the hilltop above the town, a historical Lutheran college where Jan Comensky (Comenius) taught, and the baroque styled Most Holy Trinity's Basilica.
Chateau, Hradec nad Moravici
For visitors to the Czech Republic interested in Classical music, the Chateau at Hradec nad Moravici should make their to do list. The chateau is rich in history, having had a long list of famous composers including Beethoven, Liszt, Manes and Paganini, stop by for a stay.The chateau at Hradec nad Moravici is located above the town and dominates the scenery. Overall, the chateau is done up in a neo classical style and is an unusual shade of green, however, one section called the Red Chateau, is done in neo Gothic style.Keeping to the traditional history of the chateau, a large music festival focusing on Beethoven is held here each June.
Map of Opava Attractions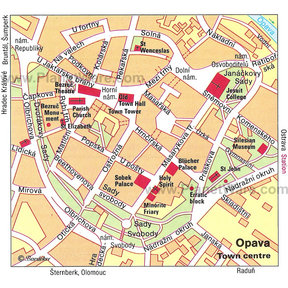 Map - Opava Town Centre