Mykonos
Area of island: 75 sq. km/29 sq. miChief place: Mykonos (Khóra)The bare rocky island of Mykonos, the most easterly of the northern Cyclades, was once one of the most important trading centers in the western Aegean. Its arid and only moderately fertile soil permits only a modest development of agriculture, but its beautiful beaches have made it one of the most popular holiday islands in the Aegean.
Related Attractions
Delos is small and sacred island of such significance, the Cyclades were named such because they circle this island. It is a UNESCO World Heritage Site and one of Greece's most important archeological sites.
Mykonos Town, Greece
The chief place on the island of Mykonos is also called Mykonos or Khóra. It is a charming little town of whitewashed cube-shaped houses, with numerous churches and several windmills, extending in a semicircle round a bay on the west coast. It occupies the site of the ancient city of the same name.In the summer the town, like the island, is crowded with tourists.
Mykonos Archeological Museum
At Mykonos town there is a small museum with archeological material from Rínia and Delos.The Mykonos Archeological Museum contains finds from tombs on the nearby island of Rhenia. The collection includes sculptures, vases and figurines, much of which dates to the 1st and 2nd Centuries BC.
Petros the Pelican
The mascot of Mykonos for more than 30 years was a tame pelican called Petros. After his universally lamented death in December, 1985 he was stuffed and can now be seen in the museum. The town now has a number of younger pelicans.
Aegean Maritime Museum
The Aegean Maritime Museum in Mykonos has displays of maps, ship models and navigation instruments related primarily to the Aegean Sea.
Mykonos Folk Art Museum
The Folk Art Museum in Mykonos brings together a number of collections of furniture, icons, pieces of sculpture and folk musical instruments.
Paraportiani Church
The most interesting of the churches on Mykonos is the Paraportianí church, which is built on four levels.
Our Lady Paraportiani
In Mykonos is Our Lady Paraportiani which consists of a number of individual churches. Today the complex is a national cultural monument.
Surroundings
Ano Mera
Ten km/6mi east of Mykonos town, in the quiet little village of Áno Merá, is Tourlianí monastery. A little way north of this, at Palaiokástro, is a ruined Venetian castle, built on the remains of an ancient settlement.
Tourliani Monastery
The Tourliani Monastery in Ano Mera maintains a valuable collection of religious items but is also of interest for its wood carvings.
Dragonísi
Some 2km/1.25mi east of Mykonos lies the rocky island of Dragonísi, with sea-caves frequented by seals.
More Mykonos Pictures
Map - Mykonos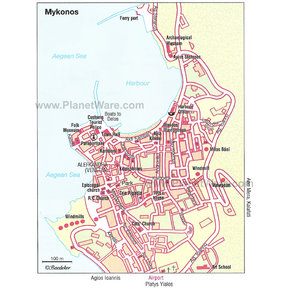 Map - Mykonos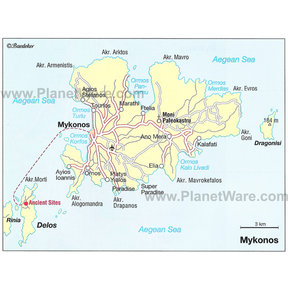 Map - Mykonos Island
Popular Destinations Nearby