Western and Southern Districts, Cork
A tour through Cork's western and southern districts enables a visitor to see many of the city's features of interest, among them Sunday's Well, the Cork Public Museum, University College, Bachelor's Quay, St Mary's Church and Crawford Municipal Art Gallery.
Related Attractions
Sunday's Well
From the Court House, Liberty Street and Sheares Street lead into Mardyke Walk, which runs parallel to the River Lee. To the right, above the north bank of the river, is the Sunday's Well district, with houses picturesquely scattered about in the hills.
Cork Public Museum
Between Mardyke Walk and the river are sports grounds and the Fitzgerald Park, in which is the Cork Public Museum. The museum offers a comprehensive view of the history of the region from prehistoric times to the present day, and also has collections of silver, glass and the crochet-work and lace for which Cork was formerly celebrated.
University College
South of Cork Public Museum, beyond Western Road and the South Channel, is the University College (founded 1845), part of the National University of Ireland, with some 4,000 students. Many of the neo-Classical buildings are well preserved; particularly fine is the Jail Gate (1818). The Honan Chapel has beautiful stained glass by Sarah Purser's Tower of Glass Group and Harry Clarke. The college possesses interesting collections (e.g. of ogham stones and early prints of Cork) which can be seen by appointment.
Bachelor's Quay
On the way to the city center from University College, we can turn left off Dike Parade into Bachelor's Quay, which has a number of fine Georgian houses along the river front. Continuing along the quays, we come to Corn Market Street (on the right).
St Mary's Church
Tto the north of the River Lee is the Dominican St Mary's Church (1832-39), on the High Altar of which is a miracle-working image of the Virgin (14th C. Flemish work in ivory).
St Patrick's Street
Corn Market Street, with the Old Market, leads into Grand Parade. To the left is St Patrick's Street, Cork's main shopping street, built over an old arm of the river, extending in a wide arc to St Patrick's Bridge.
Crawford Municipal Art Gallery
To the left of St Patrick's Bridge, in Emmet Place, is the Crawford Municipal Art Gallery (sculpture and modern Irish painting). Beyond this we come to the Opera House (1963). At the end of the street, on the corner of Lavitt's Quay, is a statue of Father Matthew, at a bus stop which is known simply as "the Statue."
Map of Cork Attractions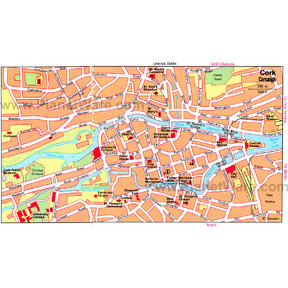 Cork Map
More Cork Attractions
Popular Destinations Nearby