Around the Mezquita-Catheral, Córdoba
Several attractions of particular note are to be found in the vicinity of the Mezquita Cathedral.
Related Attractions
Archeological Museum
Northwest of the Mezquita-Catedral, in Plaza Don Jerónimo Paez, is the Archeological Museum in Cordoba, with Iberian objects, including sculptures of lions and a relief depicting a stag-hunt from Almodóvar del Río, Roman and Early Christian antiquities and a large collection of Moorish art, including a bronze stag of the 10th century and finds from Medina Azahara.
Palacio Episcopal
Opposite the southwest corner of the Córdoba Cathedral stands the Bishop's Palace, built in the 15th century on the ruins of the Caliph's palace and rebuilt in 1745.
Diocesan Museum of Fine Arts
A recent addition to Córdoba's museums, the Diocesan Museum of Fine Arts contains a number of works by local artists. Being housed in the Episcopal Palace, the museum also contains a number of psalm books and cathedral tapestries.
Puente Romano
Beside the Triunfo rises the Puerta del Puente, a Doric triumphal arch (16th century) at the end of the 16-arched Puente Romano over the Río Guadalquivir in Córdoba. The bridge was originally built after Caesar's victory over Pompey, and a Moorish bridge, 223m/244yd long was later built on its foundations.
Torre de la Calahorra
At the south end of the Puente Romano is the massive Torre de Calahorra, built in 1369, which now houses a modern museum on the history of the city. From this side of the bridge there is a magnificent view upstream of the city, rising above the right bank of the Guadalquivir, and downstream of a number of dilapidated old Moorish watermills.
Alcázar of the Christian Kings
Across the Puente Romano from the Torre de la Calahorra we turn left and come to the Alcázar de los Reyes Cristianos. Some parts of the massive walls and towers date from Moorish times, but most of them were built when Alfonso XI strengthened the fortress in the 14th century. It contains a number of very fine Roman mosaics. Around the Alcázar, within the walls, are beautiful gardens, with ornamental pools and fountains, which are illuminated on summer evenings. In front of the main building is a square called the Camposanto de los Mártires, said to have been the place of execution of Christian martyrs.
Gardens of the Alcázar
These Christian designed Gardens of the Alcázar in Córdoba are unusual in that they were designed in the Arabian style, incorporating ponds, fountains, hedges and flowers.
Map of Cordoba Attractions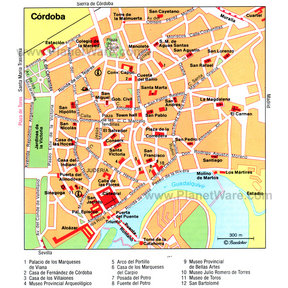 Cordoba Map
More Cordoba Attractions
Popular Destinations Nearby