Surroundings, New Haven
There are numerous towns and attractions in the New Haven surrounding area.
Related Attractions
Cheshire - Barker Character Comic & Cartoon Museum
The Barker Museum houses over 80,000 items including toys and character collectibles from 1873 to present. An animation art and fine art sculpture gallery are located within as well. Western, TV and advertising collectibles can be found alongside official Gumby and California Raisin displays.
Osborne Homestead Museum, Derby, Connecticut
The Osborne Homesstead belonged to Frances Osborne Kellogg. The estate features an early 1800s Colonial Revival style home which displays a number of antiques and interesting household items. Also of interest is the Kellogg Environmental Center, nature trails, and the surrounding gardens.
Haddam - Thankful Arnold House Museum
The Thankful Arnold House was built in three stages between 1794 and 1810. The museum offers a glimpse of life for the family in the late 1820s. The gardens are devoted to over 50 varieties of herbs, featuring many of the kind that Thankful Arnold would have used in about 1830.
Branford, Connecticut
Branford has been a popular summer resort area since the early 1900s. Natural attractions in the area include what is known as the "five fingers", comprised off Short Beach, Branford Point, Indian Neck, Pine Orchard and Stony Creek.
Thimble Islands Cruises
There are a number of Thimble Islands Cruises during the summer months which depart from the Stoney Creek Dock.
Bittersweet Farm (closed)
Bittersweet Farm was purchased for a real estate development.
Shore Line Trolley Museum, East Haven, Connecticut
The Shore Line Trolley Museum displays a variety of North American antique streetcars, and other urban transport vehicles. Visitors can also take a short trolley ride.
Eli Whitney Museum, Hamden, Connecticut
The museum is a tribute to the inventor, Eli Whitney. On display are cotton gin models, as well as interactive exhibits. The grounds are landscaped and feature a covered bridge and waterfalls, and a mechanism for controlling the flow of water.
Ansonia, Connecticut
Ansonia is a city located northwest of New Haven. It was first settled in 1652 and named for a local merchant, Anson Greene Phelps.
Derby Historical Society
The Derby Historical Society headquarters are located in the General David Humphreys House. It was built in the late 1600s to attract a minister following the death of the former reverend. The house has been restored and is open to the public on Saturdays. The Historical Society also maintains two other properties; the 1848 Dr John Ireland Howe House, which will hopefully be open to the public in the near future, and the Rev. Richard Mansfield House.
Ansonia Nature and Recreation Center
The Ansonia Nature and Recreation Center, originally a small family-owned dairy farm, features 104 acres of nature trails, streams, swamp, a two-acre pond, wildflower and hummingbird gardens. There are also fields for soccer, baseball, and softball.
Stanton House, Clinton, Connecticut
Housed in the 1789 Stanton House, the museum displays a number of historical artifacts, Colonial furnishings, and other antique items.
Opera Theater of Connecticut
The Opera Theater of Connecticut offers Connecticut artists (singers, musicians, designers and support staff) an opportunity to gain experience on stage. At the same time it offers residents a chance to see high quality, full scale performances at discounted rates.A full season of performances is offered each year.
Guilford, Connecticut
Guilford (pop. 20,000) features a large number of old homes dating from the mid 1600s to late 1800s.
Milford Historical Society, Milford, Connecticut
The Milford Historical Society displays historical artifacts related to the history of the town and region to promote preservation.
Surroundings Pictures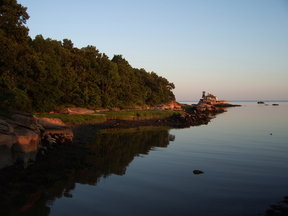 More New Haven Attractions
Popular Destinations Nearby