Cologne Cathedral
Köln Dom
Near the left bank of the Rhine stands Cologne's towering landmark, the Cathedral of St Peter and St Mary, a masterpiece of High Gothic architecture and one of the largest cathedrals in Europe. Begun in 1248, it was the most ambitious building project of the Middle Ages, but work came to a halt at the beginning of the 16th C, and the cathedral was not completed until 1842-80.The two cathedral towers are the second highest in the world, with a height of 515 feet.
Important Information:
Address:
Margarethenkloster 5, D-50667 Cologne, Germany
Opening hours:
Jan 1 to Dec 31:
6am-7:30pm
Entrance fee in EUR:
Family €8.00, Adult €4.00, Group of 10 or more €2.00, Concession or reduced rate €2.00
Useful tips:
Admission fees for tower climb and treasure chamber.
Guides:
Guided tour included with admission.
Transit:
U-Bahn: Dom/Hauptbahnhof; Bus: 132, 133; Tram: 5, 9, 11, 12, 16.
Cologne Cathedral Highlight
Interior
The interior of the Cologne Cathedral is imposing, with an area of 6,166 sq. m/7,375 sq. yd and a total of 56 pillars. Above the high altar is the Reliquary of the Three Kings (Dreikönigenschrein), a masterpiece of the goldsmith's work of the Rhineland, made in the 12th/13th century to the design of Nicholas of Verdun to house relics of the Three Kings brought to Cologne from Milan. In the ambulatory is the famous relief of the Adoration of the Kings (ca. 1440), wrongly known as the Dombild. On the pillars of the choir are fine Early Gothic statues (14th C.). In the Kreuzkapelle (Chapel of the Cross) can be seen the Gero Cross.From the south tower (over 500 steps), in which are the cathedral bells, there are panoramic views.There is 12th and 13th C. stained glass in the Three Kings Chapel. The stained glass in the rest of the church has been recently restored.
Treasury
In the Treasury are many other precious objects (reliquaries, Gospel books, monstrances, etc.).
More Cologne Cathedral Pictures
Map - Cologne Cathedral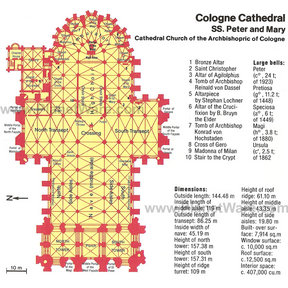 Map - Cologne Cathedral
Map of Cologne Attractions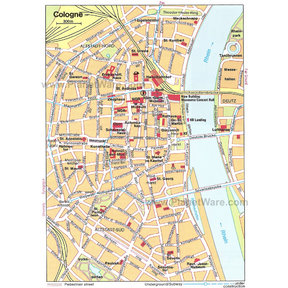 Cologne Map
More Cologne Attractions
Popular Destinations Nearby