Hagley Park, Christchurch
Beyond the Arts Centre and the Museum is Hagley Park (180ha). It is planted with trees brought from Europe. Within the park are various sports grounds, including the Harley Cricket Oval, a golf course and a riding track.
Related Attractions
Botanic Gardens
In the center of Hagley Park, enclosed within a loop of the Avon River, are the Botanic Gardens.The gardens were founded in 1863 with the first plant, an English oak tree. Now the collection includes exotic and native plants.

Canterbury Museum
On the eastern edge of the Botanic Gardens, in a building of 1870 designed by Benjamin Mountfort, is the Canterbury Museum, which has a fine collection of material on the city's colonial past, as well as magnificent Maori woodcarving and objects carved from greenstone. Displays in the main hall illustrate the history of Antarctic exploration from its beginnings down to the recent past.The first director of the museum and one of the most important collectors of material was a geologist, Julius von Haast, who had carried out extensive surveys of the South Island. He used his large collection of moa bones in exchanges with other museums to build up the Canterbury Museum.
Arts Centre (closed)
Near the museum are the neo-Gothic buildings (also designed by Mountfort and built from 1876 onwards) formerly occupied by Canterbury University, which were converted into the Arts Centre in the 1970s, when the University moved west to the Ilam district. The finest features are the Great Hall (1882), the central clock tower (1877) and the main entrance. At the west corner of the main block is the room in which Rutherford carried out his early physics experiments. The famous philosopher Karl Popper (1902-94) also taught here (1937-45).The Arts Centre is home to various dramatic, ballet and musical ensembles, and almost every day there are performances of high quality. Here too there is a great variety of shops, galleries and stalls displaying and selling art and craft objects, as well as cafés and restaurants. It presents a busy and bustling scene, particularly at weekends.The Arts Centre remains closed after significant damage from the earthquake on February 22, 2011 and its subsequent aftershocks.
McDougall Art Gallery (Permanently Closed)
The Robert McDougall Art Gallery is now closed.
Map of Christchurch Attractions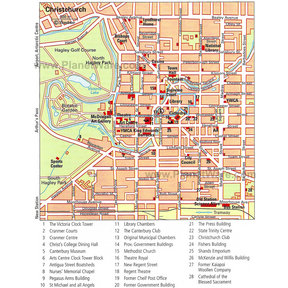 Christchurch Map
More Christchurch Attractions
Popular Destinations Nearby