Cathedral Square, Christchurch
Cathedral Square had a large number of buildings and statues that are registered with the New Zealand Historic Places Trust. Many of them were damaged and a few were lost in the Christchurch earthquake of February 2011.The large open square in front of the Christchurch Cathedral is the hub of the city's life and for long the pride of its citizens. There was great indignation when George Bernard Shaw, visiting Christchurch in 1935, admired Petre's neoclassical Roman Catholic cathedral and dismissed the Anglican cathedral as 'too academic'.
Related Attractions
Christchurch Cathedral (closed)
The Christchurch Cathedral was severly damaged on February 22, 2011 by an earthquake. The top of the famous spire crumbled to the ground.The city's principal sight is the cathedral, a prominent landmark with its 65m spire. It was designed by the famous London architect Sir George Gilbert Scott. The foundation stone was laid in 1864, but only a year later the work was halted because of shortage of money and only resumed in 1873. The direction of the work was entrusted to Benjamin Mountfort, who modified Scott's plan by adding turrets, pinnacles and small balconies. The building was completed in 1904, 6 years after Mountfort's death and 40 years after the start of work - though the first services were held in the nave in 1881.In the interior of this monumental church are a series of pictures illustrating the history of the Anglican church and its bishops in New Zealand. There is also fine stained glass.
Press Building (closed)
The building suffered significant damage from the earthquake on February 22, 2011 and was demolished in July/ August 2011.The Press Building, on the northeast side of Cathedral Square, was built (by Collins and Harman, 1909) to house the offices of the Press, Christchurch's oldest newspaper (founded 1861). A striking feature of this four-story building, in English late Gothic style, is that the windows are different on each of the floors.
Godley Memorial
In front of the cathedral is a statue of John Robert Godley, founder of Christchurch.Due to the Christchurch earthquake in February 2011, the Godley Statue fell off its plinth. Time capsules were discovered underneath and will be examined. The staute will be re-erected.
City Mall
To the south of Cathedral Square is City Mall (pedestrian zone), Christchurch's principal shopping street.
Post Office
On the southwest side of Cathedral Square is the old Chief Post Office (by PFM Burrows, 1879; 64), a building in Italian Renaissance style.
Map of Christchurch Attractions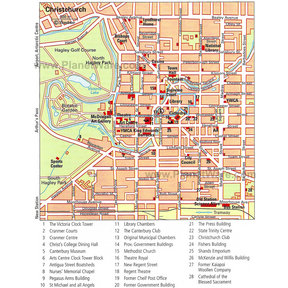 Christchurch Map
More Christchurch Attractions
Popular Destinations Nearby