Urumqi Tourist Attractions
Capital of the Autonomous Region of XinjiangÜrümqi lies in a oasis in a large desert near the northern foothills of Mount Tianshan, in the north of the Autonomous Region of Xinjiang. The town is on the rail route from Lianyungang to Kazakhstan.The name Ürümqi comes from the Mongolian and means ''Beautiful Pastures''. Various tribes grazed their cattle here more than two thousand years ago. In the 1st C AD the Han government sent troops to reclaim the land, but it was not until the Tang era (618-907) that the first urban settlement was formed. In 1758 the town was fortified and shortly after that it was given the name of Dihua. In 1884 Xinjiang was elevated to the status of province and Dihua made the seat of government. It was renamed Ürümqi in 1954, and during the last forty years or so has developed into an industrial town, with coal and iron-ore mining.
Red Mountain
The Red Mountain (Hongshan) towers up amid green countryside to the north of Ürümqi. The mountain itself is bleak and barren with its steep slopes covered in red rock. The peak is surmounted by a nine-story pagoda, from where there is a beautiful view over the town. After 640, when Buddhism spread through Xinjiang, Red Mountain was for a long time a goal for pilgrims coming from far and wide. At that time there were a large number of monasteries on the mountain.
Surroundings
There are a few attractions in the Ürümqi surrounding area.
Heavenly Lake
The Heavenly Lake, some 5sq.km/2sq.mi in area, lies 102km/63mi east of Ürümqi, 1980m/6500ft up on Mount Bogdashan (5445m/17,870ft). The lake, its banks lined with pine-trees and surrounded by snow-capped peaks, is a most impressive sight. It is fed with meltwater from the encircling mountains. A ruler from the Zhou dynasty is said to have held a banquet here 3000 years ago in honor of the Mother of Heaven.
Southern Mountain Pastures
These lush green meadows, surrounded by dense pine forests, lie 75km/47mi south of Ürümqi in a valley of the Southern Mountain (Nanshan). Shepherds' tents are dotted about everywhere, and several waterfalls can be seen in the distance.




Map of Urumqi Attractions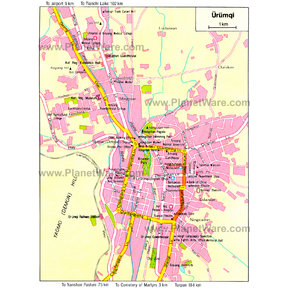 Map - Urumqi