Shandong Attractions
The densely populated province of Shandong lies between 114°36'-122°43'E and 34°25'-38°23'N on the Bohai and the Huanghai seas.The territory consists of 55 per cent flat land, 35 per cent hills and mountains, 9 per cent swamp, and 1 per cent lakes and rivers.
Tai'an, China
Tai'an lies in Shandong province, 70km/43.5mi south of Shandong, the provincial capital.One of the oldest towns in the province, Tai'an enjoyed considerable prosperity as long ago as the 2nd C BC. In the early 12th C it was a military base and became the capital of an important administrative district in 1182. In the centuries that followed, thanks to its proximity to Mount Taishan, it continued to gain in importance, both politically and economically.In recent years tourism has been a growth industry. Many hotels and guest-houses have been built or extended to cater to the increasing numbers of both Chinese and foreign visitors to Mount Taishan.
Due to its eastern location, Mount Taishan is the most famous of the Five Holy Mountains of China. Waterfalls and temples add to the mountain scenery.
Dating from the Qin period, the impressive Temple of the Mountain God is spread out over a large area and contains 813 palaces, temples, pavilions and covered walkways.
Weihai, China
Weihai lies in the northeastern corner of Shandong province, 88km/55mi east of Yantai, with which it is linked by a good road.In the 14th C Weihai was a fortified coastal town. In the 1870s the Manchurian government set up a base here for its newly-formed navy, which was completely wiped out by the Japanese in the naval battle off Weihai in 1895. From 1898 to 1930 the town was under British rule, after which it was returned to the Chinese.
Surroundings
There are a few attractions in the Weihai surrounding area.
Cape of Chengshan
The Cape of Chengshan (Chengshan Jiao) is a rocky promontory on the eastern tip of the Shandong peninsula, about 60km/37mi east of Weihai.According to legend, the Qin Emperor Shi Huangdi came here twice seeking a herb which would provide him with everlasting life.On the south side of the cape stand two temples; one is dedicated to the Qin Emperor Shi Huangdi, to commemorate his two visits, while the Temple of the Sun God (Rizhu Ci) was built by the Han Emperor Wudi after he had paid homage to the Sun God on this cliff.
Mr Liu's Island
Mr Liu's Island (Liugong Dao), just off the coast, is a 20-minute trip by ferry from Weihai. It was here that the base of the ill-fated Chinese navy was situated. Today visitors can still see the headquarters building, the parade ground and some of the battle equipment.

Map of Shandong Attractions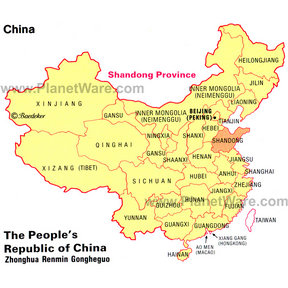 Map - China - Shandong Province