Surroundings, Qufu
There are several attractions in the Qufu surrounding areas.
Related Attractions
Confucius Woods
In these 200ha/494acre woods situated 1.5km/1mi from the city, Confucius, his son, his uncle, and many more of his direct and indirect ancestors were laid to rest. Growing here are more than 20,000 old trees some of which are said to have been planted by Confucius himself.From the center of Qufu a wide straight road leads to the cemetery. On the way we pass the three great gate arches: the Arch of Eternal Spring (Wanguchangchun Fang), the Arch of the Sacred King (Zhishenglin Fang) and the Gate of the Sacred King (Zhishenglin Men) - the entrance to the cemetery.
Nishan Mountain
30km/18mi to the southwest of Qufu rises the Nishan Mountain. On its eastern slope stands a 10th C Confucius temple. Behind the temple lies the well-known Grotto of Confucius (Kongzi Don).According to tradition Confucius was born in a nearby village and brought here soon after his birth by his father, who abandoned him at the foot of the Nishan because he was so ugly. A tigress brought him to this grotto and nursed him day and night until the repentant parents returned to collect their child.
Han Tombs
In Linxin, some 200km/124mi to the southeast of Qufu at the foot of the Yinqueshan and the Jinqueshan are situated old tombs, most of them dating from the early Western Han period (Yinqueshan, Jinqueshan, Hanmu; 206 BC-AD 23).Discovered in tomb No. 1 on the Yinqueshan in 1972 were 4942 bamboo strips covered in closely written Chinese characters. These are fragments of two thousand year old works from an era before paper was invented. Before this significant find only the titles of a few works were known, e.g.: ''The art of war of Sun Bin''.Tomb No. 2, also opened in 1972, contains 32 strips of bamboo which clearly represent sections of a calendar of the year 134 BCIn tomb No. 9 on the Jinqueshan archaeologists came across a coffin lid in 1976 which was decorated with a 200cm/78in. long, 42cm/16in. wide magnificently colored silk painting. It shows heaven, the mortal life of the buried person and hell.
Pavilion of the River View
A few yards above the grotto stands the Pavilion of the River View (Guanchuan Ting), where Confucius according to local legend, uttered the famous phrase ''as the river flows, so everything flows''.
Grave of Confucius
Grave of Confucius, the master's grave mound - although it is not certain whether he is actually buried here - rises up in the center of the cemetery. The gravestone (1443) carries the inscription ''Grave of the Sacred King of Culture, who achieved Absolute Perfection''. To the east of the grave are buried his son and grandson.In the northeastern corner of the cemetery Shangren Kong is buried; he also was a descendent of Confucius and a well known dramatist who lived around 1700.
Map of Qufu Attractions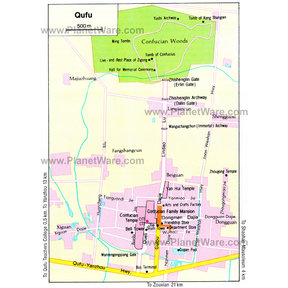 Qufu Map
More Qufu Attractions
Popular Destinations Nearby