Jiangxi Attractions
The province of Jiangxi in southeast China, to the south of the Changjiang, lies between 113°34'-118°28'E and 24°29'-30°15'N.Running through the middle of Jiangxi Province from south to north is the Ganjiang (hence the abbreviation ''Gan'' for the province) with the largest freshwater lake in China, Poyang Hu (3583sq.km/1383sq.mi). It is surrounded by a plain extending over more than 20,000sq.km/77,000sq.mi, which to the south, east and west is bounded by mountains as high as 2000m/6500ft.
Jinggangshan, China
Jinggangshan is situated in the south of Jiangxi Province, on the border with Hunan.In the 1920s this region, together with the Jinggangshan Mountains, was the scene of Mao's first revolutionary struggles, thereafter becoming the base of the Red Army, which Mao formed. It was from here that the Communists began their famous Long March in 1934.Today the region is a popular place to visit on account of the interesting architectural monuments and its many picturesque villages.
Ciping Zhen
Ciping Zhen is the most important district in Jinggingshan and was where Mao's peasant army had its headquarters.The headquarters of the New 4th Army Corps, Mao's house and the Town Museum can all be visited.
Grotto of the Stone Swallow
The 1000m/.5mi long Grotto of the Stone Swallow (Shiyan Dong) lies 9km/5.5mi northeast of Ciping Zhen. In the lower section there are seven small dripstone caves with stalactites and stalagmites. These caves have become joined together by tiny narrow passages. The cave was formed by centuries of erosion taking place in the limestone.
Dajing Zhen
The district of the town known as Dajing Zhen occupies a valley surrounded by high mountains. There are several buildings here which bear testimony to the Maoist revolution: the Red Army dormitory, Mao's dwelling and the field hospital.
Wuyuan
Wuyuan, home to some of the best preserved ancient architecture in China, has at least 50 old villages that have remained almost unchanged over the last 100 years. The natural scenery includes typical countryside scenes as well as hills covered in yellow rape flowers, green farmland, camphor trees, creeks and small rivers.
Yancun
Yancun is a small village surrounded by fields. The village is home to some architectural masterpieces - some of the buildings have three floors and 16 to 24 rooms. The large houses were built by the tea merchants after they made their fortunes.
Sixi
Sixi is a picture postcard village with simpler structures, it is located very near Yancun.


Map of Jiangxi Attractions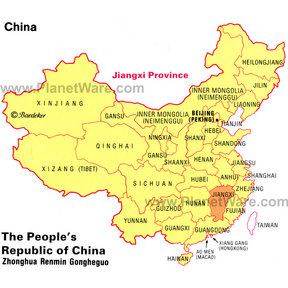 Map - China - Jiangxi Province