South Side, Chicago
This area of the city contains the predominantly African American neighborhood, Near South Side, with several prominent blues and jazz clubs and significant religious buildings. The restaurants and shops of Chinatown, historic Bridgeport and the University of Chicago in Hyde Park are all found within the South Side boundaries.
Related Attractions
DuSable Museum of African American History
The DuSable Museum was founded in 1961 in the memory of Jean Baptiste Pointe Du Sable, the African Frenchman who built a trading post that evolved into the city of Chicago. Exhibits include paintings, sculptures, books, photographs and historical artifacts, over 12,000 items that deal with the contributions Africans and African-Americans have made to world history. Highlights of the DuSable Museum include the Joe Louis exhibit, the collection of African woodcarvings and the Harold Washington Theater that presents an ongoing series of performing arts.
The Prairie Avenue Historic District is home to old restored mansions which once belonged to some of Chicago's most prominent residents.
American Police Center Museum (closed)
ATTRACTION IS CLOSED.Founded in 1974, this gymnasium-size museum features police and crime-related memorabilia including uniforms, badges, photos, weaponry and an electric chair replica complete with a shocking buzz sound. Exhibits for youth include the "Drug Coffin" which warns young people about the dangers of illegal drug use. There are a number of different galleries in the museum including "Gangster Alley" with artifacts and paraphernalia from the days when gangsters ruled the city streets. One exhibit focuses on the 1886 Haymarket tragedy, when anarchists threw a bomb into a group of striking workers and police, killing seven police officers.
Balzekas Museum of Lithuanian Culture
The Balzekas Museum of Lithuanian Culture showcases Lithuanian art, history and culture featuring historical artifacts that span 1000 years in the permanent exhibit titled "Lithuania Through the Ages." The Children's Museum of Immigrant History, art galleries, photo archives, stamp and coin collections, maps and a regular lecture series are highlights of the Museum of Lithuanian Culture.
Chicago Opera Theater
Chicago Opera Theater presents familiar works with fresh interpretations. It is often the first to present to Chicago audiences new works by acclaimed composers. Classic stories set in contemporary settings. Chicago Opera Theater forges new creative partnerships between the world's most fascinating artists in music.
Vietnam Veterans Art Museum
The Vietnam Veterans Art Museum houses over 1,500 works of art done by over 130 artists, mostly Americans but some Australian, Cambodian, Thai, and South Vietnamese. The collection includes paintings, drawings, photography, sculptures, poetry and prose all inspired by combat and created by veterans.
Douglas Tomb State Historic Site
A bronze figure of Stephen A Douglas marks the grave of Douglas who is buried at the base of the monument. The monument is a 96-foot-tall granite structure.
Map of Chicago Attractions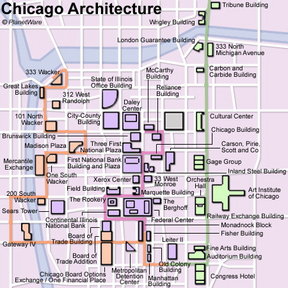 Chicago Map