Near North Side, Chicago
The Near North Side and Gold Coast district is a very handsome part of the city, fronted by the gleaming facades of modern skyscrapers, behind which are two- and three-story 19th century houses, now much sought after. In this area there are excellent jazz spots, one or two nightclubs, good restaurants, interesting boutiques, antique dealers and well-stocked bookshops.
Related Attractions
Lincoln Park runs along Lake Michigan and contains open spaces, various trails, a golf course, beaches, and a zoo, among other sights.
Wrigley Field
Wrigley Field, home to the Chicago Cubs, was built in 1914. The stadium seats 39,000 people as is the second-oldest ballpark in the majors.
Loyola University Museum of Art (formerly Martin D'Arcy Museum of Art)
The newly opened Martin D'Arcy collection is the main attraction at Loyola University Museum of Art, commonly called LUMA. Located in the museum's third floor galleries, the D'Arcy is a permanent collection of medieval, renaissance and baroque art: painting, sculpture, furniture and personal devotional objects of various materials. Adjacent to these galleries is the museums non-circulating library where visitors and students can peruse a wide variety of art themed books and magazines.The second floor of the museum has additional gallery space. Exhibitions on this floor change every few months and are broadly linked by LUMA's theme of "art illuminating the spirit." The admissions desk and gift shop are also located on the second floor.
Swedish American Museum
Located in Andersonville, the traditionally Swedish neighborhood of Chicago, the Swedish American Museum houses a collection of art and historical artifacts related to the Swedish experience in America. Around 200 years ago, waves of Swedish immigrants began arriving in Chicago, many setting up base in Andersonville. The original museum opened in 1976 but moved to its current location in 1987. The Swedish American Museum features Swedish art, crafts, music and film. There are four major temporary exhibits a year and hosts a regular series of lectures, concerts and other special events.
Polish Museum of America
Founded in 1935, the Polish Museum of America is often considered one of the oldest ethnic museums in Chicago, if not the U.S. The exhibits showcase the culture and history of Poles and Polish-Americans. Visitors can see paintings, sculptures, drawings and lithographs by famous Polish artists, military artifacts, patriot Thaddeus Kosciuszko's manuscripts and a Polish royalty room. The museum maintains a library and archive and sponsors a regular program of lectures, films, special events and traveling exhibitions.
Old Town
The Old Town of Chicago, an area of just over 1sq. mile/3sq.km between North Wells Street and Eugene Street, has recently been cleaned up and refurbished on the model of New York's Greenwich Village. Many of the houses built here after the 1871 fire are now occupied by boutiques, souvenir shops, restaurants and bars. In the past there was a considerable German element in the population, as is reflected in the streets named after German writers.
Vietnam War Museum
Founded in the mid 1980s, the Vietnam War Museum houses a collection of historical artifacts that explore various aspects of the Vietnam conflict. Visitors can learn about the war via memorabilia, artifacts, photographs, written documents, magazines, artwork, period publications and personal effects. The museum is linked to the Vietnam Memorial and Archives Center and the Amerasian Association of Greater Chicago.
Elks National Memorial and Headquarters
This Elks National Memorial is a tribute to all those who served in WWI and succeeding wars.
Map of Chicago Attractions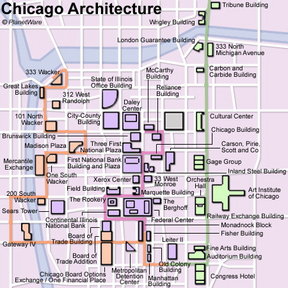 Chicago Map