Lincoln Park, Chicago
At 1,200 acres, Lincoln Park is a six-mile stretch of green space along the edge of Lake Michigan and Chicago's biggest park. It contains a number of playing fields, bike trails, jogging paths, a golf course, horseback riding trails, beaches, a conservatory and a zoo.Plans for the park began in the late 1830's and the idea gained momentum when New York started on its Central Park in 1857. Originally called Lake Park, Lincoln Park was renamed shortly after President Lincoln was assassinated in 1865.Visitors can see a number of significant statues and pieces of public art within the park grounds including Augustus Saint Gaudens' Standing Statue of Lincoln (1887).
Important Information:
Address:
7059 South Shore Drive, Chicago, IL 60649, United States
Related Attractions
Peggy Notebaert Nature Museum (formerly Chicago Academy of Sciences)
The Chicago Academy of Sciences was founded in 1857 to collect, preserve and present specimens and artifacts related to the ecology and natural history of the Midwest from the Great Lakes to the prairies. After having its original collection burned in 1871, the academy acquired enough material over time to fill the Matthew Laflin building, which served as the main depository from 1893 to 1995. In October 1999 the Academy opened the Peggy Notebaert Nature Museum in Lincoln Park. It houses a number of permanent exhibits including the Judy Istock Butterfly Haven with more than 1,000 butterflies representing over a 75 different species. The Ameritech Environmental Central exhibit informs visitors about major environmental problems and gives them the chance to act as urban planners and community developers. The Wilderness Walk sends visitors back 150 years when Illinois was mostly prairie to highlight the problem of urban sprawl and habitat loss. The Museum also hosts a number of temporary exhibits throughout the year along with environmental education workshops and programs.
Chicago History Museum
The Chicago Historical Society is the oldest library and museum in the city. It houses a collection of pre-1865 American memorabilia and historical artifacts from Chicago's colorful past. Highlights include an original copy of the Declaration of Independence, a substantial collection of Lincoln artifacts including his deathbed, George Washington's inauguration suit and the Pioneer Locomotive, Chicago's first train. The collection is displayed in a number of different galleries divided under some of the following headings: Archives and Manuscripts, Prints and Photographs, Decorative and Industrial Arts and Paintings and Sculpture. Originally founded in 1856, the museum moved into its present location, a Georgian-style building designed by Graham, Anderson, Probst & White, in 1932.
Lincoln Park Zoo
Founded in 1868, Lincoln Park Zoo is one of the oldest in the country. Its numerous restored historical buildings house a diverse collection of animals ranging from naked mole rats to elephants. In total there are more than 1000 mammals, birds and reptiles from each of the earth's Four Corners. Visitors can walk on one of four different trails to wind through the 35-acre property.The zoo is involved in a number of conservation projects worldwide and it hosts a regular series of educational programs and workshops. The zoo is notable for its successful lowland gorilla project; over 40 have been born here since 1970.
Lincoln Park Conservatory
Using London's Crystal Palace as an inspiration, architect Joseph Lyman Silsbee designed the Lincoln Park Conservatory in 1892. The conservatory contains 19 propagating houses in which flowers for Chicago's numerous parks are grown. The four display houses of Lincoln Park Conservatory include the Palm House, Fern Room, Orchid House and Show House, which is home to the annual flower shows. The main horticultural collection displayed in the large glass and copper building showcases exotic plants from around the world including palms, cacti and cycads.
Victory Gardens (formerly Biograph Theater)
The Biograph Theater was one of Chicago's oldest movie houses, built in 1914. The notorious gangster John Dillinger was shot down in front of the Biograph Theater on July 22nd, 1934.Victory Gardens presents live theatrical presentations at the Biograph Theater.
Map of Chicago Attractions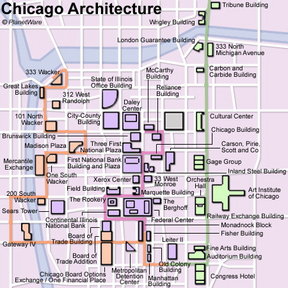 Chicago Map