La Salle Street, Chicago
Anchored on one end by the Art Deco Board of Trade Building which is flanked by stately bank and government buildings, La Salle Street is often used as a film set to capture the era of prohibition Chicago.The other end of La Salle in the loop is the site of the spectacular State of Illinois building.
Related Attractions
James R.Thompson Center (formerly State of Illinois Center)
In the north-western part of the Loop is the very handsome modern complex of the James R Thompson Center, formerly known as the State of Illinois Center. It is regarded by many as the German-born architect Helmut Jahn's masterpiece. Its interior is strikingly impressive, with a huge atrium mall housing many excellent shops, cafes and restaurants. Here too is the State of Illinois Art Gallery.Jean Dubuffet's "Monument with Standing Beast", a black and white fiberglass sculpture, is located on the plaza.
Illinois Art Gallery
Artwork by Illinois artists are on display at the Illinois Art Gallery including paintings, sculptures and photographs. The gallery is a branch of the State Museum in Springfield which puts on periodic exhibitions of works by well-known Middle West artists.
Chicago Board of Trade
The 44-story Chicago Board of Trade is the largest grain exchange in the world. There is a Visitors' Gallery on the 5th floor. An aluminum statue of Ceres, goddess of fertility, is found on the top of the building.A fine example of Art Deco style - cubic forms, geometric ornament, and sleek surface materials were used.
One Financial Place
One Financial Place in Chicago features a roof topped by an ornament shaped like the stepped, octagonal trading pits inside. The 1985 building was designed by Skidmore, Owings & Merrill.The 12th floor has a skylight atrium that faces the older Board of Trade. The courtyard of the Board of Trade extension has a notable horse statue in a modern interpretation in the style of Venice. It is called Horse San Marco II by Ludovico de Luigi
The Rookery
Noted architects Daniel Burnham and John Root designed the Rookery in 1888. It represents one of the few remaining buildings to come out of their productive partnership. It is noteworthy for the large inner courtyard that allows natural light to illuminate the inside offices. The facade of the 12-story structure combines Roman Revival and Queen Anne styles. It is constructed of red marble, terra cotta and brick. The name comes from the temporary city hall that occupied the site after the great fire of 1871. That building was a favorite roost for pigeons and hence, acquired the name "Rookery". Frank Lloyd Wright remodeled the interior and lobby in 1907. A second refurbishment took place in 1992 when the building underwent a $106 million restoration project.
Map of Chicago Attractions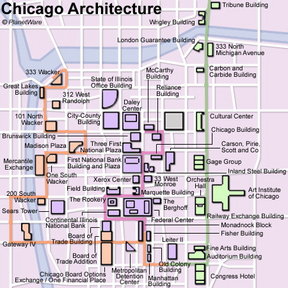 Chicago Map