Jackson Park, Chicago
Designed by noted landscape architect Frederick Law Olmsted in 1870, Jackson Park is probably best known for being the location of the 1893 Columbian Exposition. The 600-acre park has a number of playing fields, a golf course, tennis courts, bike paths and three beaches. A few of the highlights are "The Republic," a 24-foot (7m) statue created by Daniel Chester French, the Wooded Island bird sanctuary and the Osaka Japanese Gardens.
Important Information:
Address:
6401 South Stony Island Avenue, Chicago, IL 60637, United States
Related Attractions
Museum of Science & Industry
At the north end of Jackson Park is the Museum of Science and Industry, founded in 1933. It is devoted to the application of natural laws in technological and industrial development. Among many notable exhibits are the Apollo 8 space module, a German submarine captured during the Second World War, a walk-through model of the human heart and a representation of the human brain. Other items of interest include Coleen Moore's House, a dolls' house in the form of a fairytale castle, a large model railway layout and a working replica of a coal mine shaft elevator.The museum is thought to be the first in the U.S. to incorporate the idea of "hands-on" exhibits. Visitors are encouraged to interact with 800 exhibits and over 2,000 interactive units. The MSI also features the Henry Crown Space Center and OMNIMAX theater. It contains exhibits on space exploration and travel. Movies are presented on the five-story screen several times throughout the day.
Henry Crown Space Center and OMNIMAX Theater
Henry Crown Space Center was added to the museum in 1986. Astronauts, space exploration and a theater are features of this center. A simulated space station and items from the Apollo 8 and Aurora 7 Mercury are on display.
Midway Plaisance
Midway Plaisance is a mile-long double boulevard that connects Jackson Park with Washington Park. The center portion was the midway of the 1893 Columbian Exposition. Skating is offered in the winter.
Map of Chicago Attractions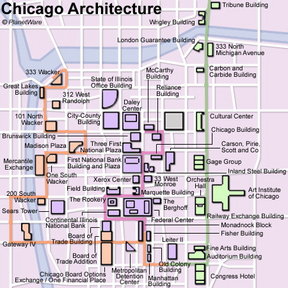 Chicago Map