Hyde Park, Chicago
One of Chicago's most historic neighborhoods, Hyde Park is home to the University of Chicago, The Oriental Institute, Smart Museum and the DuSable Museum of African American History. It is located about nine miles (14.5km) south of the loop.
Related Attractions
University of Chicago
To the south of the city is the large campus of the University of Chicago, one of the leading U.S. universities, which was founded in 1891 by John D. Rockefeller and now has some 12,000 students. On the campus is Robie House, built by Frank Lloyd Wright in 1909 as a private residence, which is now occupied by the Institute of International Studies. There are also buildings designed by Mies van der Rohe and Eero Saarinen. The first controlled nuclear chain reaction was achieved by University scientists in 1942.
Oriental Institute Museum
The Oriental Institute Museum is dedicated to the archeology and art of the Near East. Antiquities are on display from excavations in Egypt, Sudan, Iraq, Turkey and Israel.
Smart Museum of Art
The Smart Museum of Art houses over 10,000 objects from five centuries of Western and Eastern civilizations. Highlights include Renaissance and Baroque paintings and sculpture, furniture by Frank Lloyd Wright, German and Central European Expressionist graphics, East Asian art, and contemporary art from Chicago.
Rockefeller Memorial Chapel
Rockefeller Memorial Chapel is a Gothic structure that was designed by Bertram Goodhue. It houses a 72-bell carillon in the tower. The chapel was named for the University's Baptist founder, John D. Rockefeller.
Robie House
Built in 1909 for businessman Frederick C Robie, this house represents the best example of Frank Lloyd Wright's Prairie School style. It has long overhanging eaves, a nearly flat roof, an open floor plan and exaggerated horizontal lines meant to reflect the prairie landscape. Today it houses the University of Chicago's Alumni Relations Office.
Map of Chicago Attractions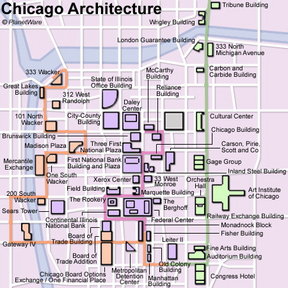 Chicago Map