Grant Park, Chicago
The Grant Park and South Michigan Avenue area attracts millions of visitors annually with its world-famed cultural institutions and its architecture by Louis Sullivan and Daniel Burnham.Grant Park extends eastward to Lake Michigan and south to the Field Museum of Natural History, 2 miles/3km away. Its central feature is the pink marble Buckingham Fountain (1927), a magnet for visitors. The fountain plays from May to September, and is illuminated in the evening.
Related Attractions
Buckingham Memorial Fountain
Modeled after the Latona Basin fountain at the palace of Versailles, the Buckingham Memorial Fountain was a gift to the city by Miss Kate Sturges Buckingham in memory of her brother Clarence. It was first dedicated in 1927 and has since then become one of Chicago's most recognizable landmarks. It is composed of three, circular, Georgia-pink-marble basins stacked one on the other, which rise from a large pool signifying Lake Michigan. Ocean-themed carvings like shells and seaweed adorn the outside of the basins and four large, bronze sea horses, representing the states around the lake, are located inside the main pool. The central jet shoots up a 140-foot tower of water.
Burnham Park
Burnham Park is centered around a man-made lake. There is opportunity for boating, picnics, outdoor concerts, tennis and cycling.The Park is actually a southern extension of Grant Park except it is separated by Lake Shore Drive.
Map of Chicago Attractions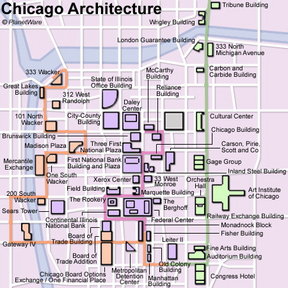 Chicago Map