Downtown, Chicago
Downtown Chicago is an urban core with a long tradition of fine architecture.
Related Attractions
Navy Pier
The Navy Pier originally opened in 1916 as an amusement area and shipping facility and is now one of Chicago's most popular tourist attractions. The facility served as a military training site during both world wars and was the location of the University of Illinois from 1946 to 1965. It sat in neglect during the 70s and 80s but a massive refurbishment campaign began in 1991. Today, the Navy Pier is made up of 50 acres of gardens, attractions, shops, restaurants, concert venues and parks. There is a 150-ft Ferris wheel and an historic carousel in Navy Pier Park. Visitors can also watch a film at the Loews Cineplex Navy Pier 3D Imax Theatre, take in the free Stained Glass Museum, watch actors perform the classics at the Chicago Shakespeare Theater or visit Crystal Gardens, a one-acre, six-story, indoor botanical garden. It is the scene of all-year-round festivities, including the Chicago Festival in August. The Navy Pier is located North-east of the mouth of the Chicago River. Cruise ships leave from here on various sight-seeing excursions.
Chicago's Magnificent Mile runs along Michigan Avenue. It is the city's shopping district, and home to numerous hotels, restaurants, and museums.
Chicago Architecture Foundation
The Chicago Architecture Foundation was founded in 1966 to save and protect historical buildings and to educate the public about Chicago's unique architecture and design. Today, a group of nearly 400 trained docents lead interpretative tours around numerous parts of the city. The Foundation offers an extensive program of tours, exhibitions, lectures, and special events. Visitors can choose from approximately 65 different tours and modes of transport. There are walking tours, bus tours, bike tours and boat tours. Some examples of the tours offered include: Historic Skyscrapers, Modern Skyscrapers, Loop Photography, Movie Palaces by Bus and numerous others.
The Loop
Chicago's financial and business district is known as the Loop: in the strict sense only the area enclosed by the "El" (elevated railway), but in practice taking in a dozen or so blocks on both sides of the Chicago River. The El follows Wabash Street, Lake Street, Wells Street and Van Buren Street, on which are many buildings designed by great architects. On the squares and in the public buildings of the Loop there are over 60 works by well-known artists, including Picasso, Chagall and Alexander Calder.
Museum of Broadcast Communications (closed)
One of two broadcasting museums in the US, the other is in New York, this facility houses exhibits on the history of broadcasting and maintains a huge archive of television programs, radio shows, newscasts and commercials, more than 70,000 in all. Highlights include the mock TV news studio where guests can play the role of a news anchor then take home a taped copy and the Radio Hall of Fame. The public can browse the museum archives and use one of 26 listening booths. Special exhibitions take place in The Jack Brickhouse Television Gallery and live radio shows take place in the Lynn "Angel" Harvey Radio Center.
Irish American Heritage Center
The Irish American Heritage Center provides community events, a historic museum, musical programs, an Irish history library and a place for Irish Chicagoans to celebrate their heritage.
More Downtown Pictures
Map of Chicago Attractions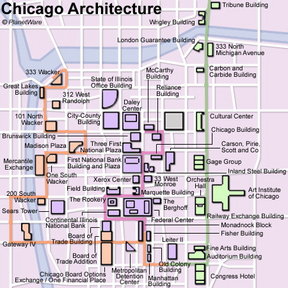 Chicago Map