Art Institute of Chicago, Chicago
Beginning in 1866 as the Chicago Academy of Design, one of the first art schools in the country, the Art Institute of Chicago is a world class museum with a collection of more than 300,000 artworks arranged within 10 curatorial departments. The diverse collection spans thousands of years and includes pieces from a variety of media including painting, prints, photography, sculpture, decorative arts, textiles, architectural drawings and more.
Art Institute of Chicago Map
Important Information:
Address:
111 South Michigan Avenue, Chicago, IL 60603-6110, United States
Opening hours:
10:30am-5pm; Sun: 10am-5pm; Thu: 10:30am-8pm; Fri: 10:30am-8pm; Sat: 10am-5pm
Always closed on:
New Year's Day (Jan 1), Thanksgiving - USA (4th Thursday, Nov), Christmas - Christian (Dec 25)
Entrance fee in USD:
Adult $18.00, Senior over 65 $12.00, Child 13 & under FREE
Useful tips:
Admission is free to all on Thursday evenings from 5-8pm. Group discounts are available with prior notice. Special needs visitors can arrange for a private tour by calling (312) 443-3680, at least one month in advance. Flashes, tripods, and video cameras are prohibited. Loan exhibits may not be photographed.
Disability Access:
Full facilities for persons with disabilities.
Guides:
Guided tour available as optional extra.
Facilities:
Gift shop, Restaurant or food service, Wheelchair loan or rental
The main building, designed by Shepley, Rutan, and Coolidge in beaux-arts style, was built for the 1893 World's Columbian Exposition. Several other buildings have been added on over the years and today the complex measures 400,000 square feet.The Institute is probably best known for its collection of impressionist and post-Impressionist paintings including Georges Seurat's 1884 "A Sunday Afternoon on La Grand Jatte," Renoir's 1879 "Acrobats at the Circus Fernando" and 33 paintings by Claude Monet.However there are opportunities to discover treasures in each of the major departments, which include:African and Amerindian ArtAmerican ArtArchitectureAsian ArtAncient ArtEuropean ArtPhotographyEuropean Decorative Arts and SculpturePrints and DrawingTextilesArms and ArmorModern and Contemporary ArtOn the lower floor are the Thorne Miniature Rooms, a kind of gigantic dolls' house with 68 different rooms (representing every type of dwelling from a peasant's hut to a palace) reproduced on the scale of 1:12. Also within the complex are an art school, a Children's Museum, the Film Center and the renowned Goodman Theater.
Related Attractions
Kraft Education Center
The Kraft Education Center is geared to families with changing exhibits, interactive computer programs, a children's library and storytelling area and an auditorium.
Map of Chicago Attractions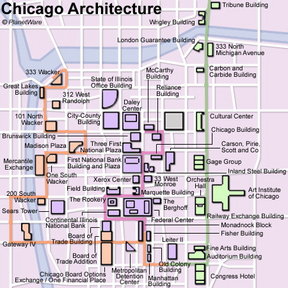 Chicago Map