Wat Doi Suthep
Wat Doi Suthep (altitude 1053 m (3456 ft) lies amid delightful scenery below the summit of Doi Pui (1685 m (5530 ft)). Access from Chiang Mai is by road - car or bus - along the winding 1004. A rewarding detour on foot from the car park (bus terminal) leads to the attractively situated Nam Tok Huai waterfall. At the point where the road begins to rise sharply to the temple, a monument commemorates Phra Si Wichai, the monk on whose initiative in 1934 the first road was built.
Related Attractions
Phu Ping Summer Palace
To reach Phu Ping, one of the royal family's summer palaces, continue along the road beyond the Wat Doi Suthep temple. The Bangkok-style building, in colorful gardens, lies a short way up the mountain. (Visitors are admitted only when no member of the royal family is in residence, and must be suitably dressed.)
Wat Doi Suthep Museum
Wat Doi Suthep's little museum contains some valuable exhibits including coins and stamps.
More Wat Doi Suthep Pictures
Map of Chiang Mai Attractions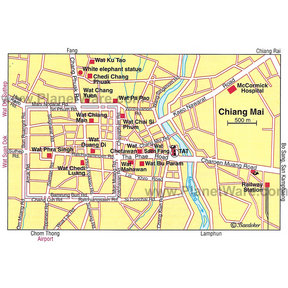 Chiang Mai Map
More Chiang Mai Attractions
Popular Destinations Nearby