Chester Cathedral
The Cathedral is reached from either Northgate Street or the winding St Werburgh Street. Records show that, around 958, the site was occupied by a church and shrine dedicated to St Werburgh (died ca. 700), abbess daughter of King Wulfhere of Mercia. A little over a century later, having regard no doubt to the salvation of his not altogether guiltless soul, Hugh Lupus, first Norman Earl of Chester, replaced it with a Benedictine abbey.
Important Information:
Address:
12 Abbey Square, Chester CH1 2HU, England
Opening hours:
Jan 1 to Dec 31:
9am-5pm; Sun: 12:30pm-4pm
Entrance fee in GBP:
Family £10.00, Adult £4.00, Senior £3.00, Group discounts £3.00, Child 16 & under £1.50
Guides:
Audio-visual presentations available.
Facilities:
Gift shop, Restaurant or food service
This in turn became a cathedral when, following the Dissolution, a new diocese was created by Henry VIII in 1541.Part of the Norman church survives in the north transept. The Lady Chapel and Chapter House are Early Gothic (post 1240), most of the choir High Gothic (1280-1315), and the tower, west front and upper part of the nave Late Gothic (1485-90). The entire building was restored by Sir Gilbert Scott between 1868 and 1899. On entry via the southwest porch, the three aisle pillared nave (14th-16th century) of the Gothic basilica is most striking. The west end incorporates several features of interest: the baptistery, another relic of the Norman church, contains a sixth century Venetian font brought to Chester in the 19th century from a village near Venice; the Consistory Court, though less visually impressive, is nevertheless unique in England.Handel's Messiah was first rehearsed in Chester Cathedral.
Chester Cathedral Highlights
Cathedral Choir
Leaving the west end of Chester cathedral, continue along the south aisle, past the massive south transept (14th century) which, with its three aisles, was used as a parish church (St Oswald's), to reach the Early Decorated choir, undoubtedly the finest part of the Cathedral. The late 14th century choir stalls are superbly carved, with 48 droll misericords and an old abbot's seat inscribed with the Tree of Jesse. Part of a 14th century shrine to St Werburgh can be seen in the Lady Chapel.
Abbey Buildings
Somewhat unusually, the cloister (rebuilt in the 19th century) and the several surviving Chester abbey buildings grouped around it, are found on the cathedral's north side. The Chapter House and its vestibule are both Early English. In the refectory the hammerbeam roof is modern, having been completed in 1939; the stone lector's pulpit on the other hand, approached by a flight of steps set in the wall, is again Early English. The plain undercroft is Norman.
Map of Chester Attractions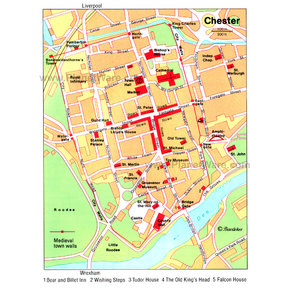 Chester Map
More Chester, England Attractions
Popular Destinations Nearby