Iles de Lérins
The island group of the Iles de Lérins lies between the Golfe de la Napoule and the Golfe Juan. The two principal islands are Ste-Marguerite and St-Honorat. The ferry plies several times a day between Cannes and the islands 4km/2.5mi out.As early as the fifth and sixth centuries the islands were an important center of ecclesiastical erudition and monastic life. In the year 660 the monastery assumed the Rule of St Benedict. Attacks by the Saracens and later by pirates from Genoa affected the monks very severely, and in the 16th century the convent began to decline into obscurity.
Related Attractions
Ste Marguerite
Ste-Marguerite, 3km/2mi long and up to 1km/0.5mi wide, is the largest island of the Lérins group and is covered with eucalyptus and pine woods. On its northern side stands a 17th C fort, fortified by Vauban, which served for a long time as a prison. Towards the end of the 17th C the man known as the "Masque de Fer" (Man in the Iron Mask), who was surrounded in secrecy and whose identity has never been established, was held prisoner here.
St Honorat
About 700m/765yds from Ste-Marguerite, and linked by ferry, lies the Ile St-Honorat, 1.5km/1mi long and up to 400m/438yds wide, and also covered with pine woods. On a tongue of land in the south lie the monastery buildings which were once fortified and, it is believed, were a foundation of St Honoratus, Bishop of Arles, who died in 429.In the south by the sea stands the impressive Château St-Honorat, the tower built in the 11th C as a refuge against pirates and later altered; there are beautiful cloisters on the ground floor and on the first floor, and extensive views.There were formerly seven chapels scattered about the island, but today the only two remaining are the Chapelle St-Sauveur, an Early Christian smooth-walled building, with a diameter of almost 10m/33ft, and the Chapelle de la Trinité, an early medieval cemetery chapel.
Map of Cannes Attractions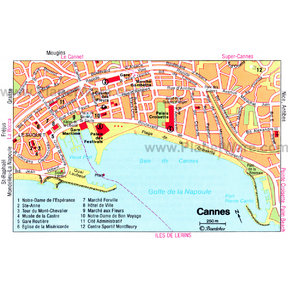 Cannes Map
More Cannes Attractions
Popular Destinations Nearby