Surroundings, Toronto
There are a number of interesting towns and attractions within a short distance of Toronto.
Related Attractions
Vaughan - Paramount Canada's Wonderland
About 30km / 19mi north-west of the Toronto city center is Canada's Wonderland. The theme park's many attractions make for an enjoyable family day out.This is one of Canada's premier amusement parks.
Oakville, Canada
West of Toronto, Oakville has the advantage of two harbors - one in Bronte and one downtown. Waterfront parks and the Waterfront Trail grace the shoreline.Oakville is a suburb of Toronto and many of the residents commute to downtown Toronto for work.
Canadian Golf Hall of Fame and Museum
The Canadian Golf Hall of Fame and Museum in Oakville traces the roots of golf and provides visitors with an extended view of the history of the sport. Many famous golfers are honored in the Hall of Fame.The center also maintains a golf library and a large collection of golf related photographs.
Glen Abbey Golf Course
Glenn Abbey Golf Club in Oakville is the traditional home of the Bell Canadian Open, hosting the tournament for the majority of it's games. The golf course is also open to the public.
Brampton, Canada
The city of Brampton was founded in 1852 and is located just west of Etobicoke, in the GTA. The first settlers, John Elliott and John Scott, arrived from England and they opened a store, copper shop, and potashery. The town is well-known for the many walking trails and parks.
Mount Pleasant, Richmond Hill, Canada
The residential area of Richmond Hill (Mount Pleasant), about 20km / 12mi north of the city center, is the site of the University of Toronto's David Dunlab Observatory (interesting and worth a visit). The district was named after the Duke of Richmond in 1819.
Markham, Canada
The town of Markham is located just north of Toronto. Settled in 1794, Markham began as an agricultural community with settlers from Germany, France and Great Britain.
Markham Museum
The Markham Museum features 20 restored heritage buildings on 25 acres of land. There is a rail exhibit on site with a station and cars all restored. History is blended with modern exhibits throughout the museum.Various events also take place here throughout the year so be sure to check with museum's calendar.
Markham Theatre for the Performing Arts
The Markham Theatre for the Performing Arts features a variety of plays every year. The facility itself has rooms which may be rented by groups.
Milton, Canada
Milton is located just west of Toronto. The area offers a range of activities, including hiking, camping, canoeing, swimming, golfing, rocking climbing, and a number of other outdoor activities.
Chudleigh's Farm
Chudleigh's offers a traditional farm experience for children and families. This family run apple farm offers some delightful entertainment. The Children's Area at Chudleigh's allows kids to pet some of the farm animals, enjoy tractor rides, or play on the numerous slides and children's equipment. There is also face painting, nature trails, and pony rides.In season visitors can also pick their own apples or purchase apple products.
Halton Region Museum
The Halton Region Museum site is located beneath the Niagara Escarpment inside Kelso Conservation Park in Milton. It is a pioneer homestead founded by the Alexander Family in 1836. A trails leads through a complex of six buildings each depicting Halton's history. The museum houses a collection of 35,000 artifacts.In addition to the museum, the park offers picnicking, swimming, hiking as well as down-hill skiing and snowboarding in winter.
Country Heritage Park (formerly the Farm Museum and the Ontario Agricultural Museum)
Country Heritage Park is an 80 acre interactive agricultural heritage park and museum, with over 30 exhibit buildings and 20,000 artifacts, depicting the evolution of agriculture and rural life over the last 170 years.
Scarborough
Since the amalgamation of the Toronto area Scarborough has become a part of the Greater Toronto Area (GTA).
Cedar Ridge Creative Centre
Cedar Ridge Creative Centre in Scarborough is housed in an historic mansion, surrounded by lush gardens. Educational art programs are offered and the gallery features changing exhibits during the summer months.The main building on the site is the 1912 home, but there is also a carriage house which contains studio space.
Scarborough Historical Museum
The Scarborough Historical Museum is housed in four restored 19th C buildings with exhibits pertaining to 19th C life in the area. On site are the McCowan Log House, Cornell House and the Hough Carriage Works, all set in Thomson Memorial Park.
Scarborough Civic Centre
The Scarborough Civic Centre offers visitors various art exhibits as well as concerts. The gallery was designed by world famous architect, Raymond Moriyama.
Toronto Works Department (R. C Harris Water Filtration Plant)
The area has a large park and lawns, perfect for walking or flying kites.
Aurora, Canada
Located directly north of Toronto, Aurora is about an hour drive from the big city. The town offers sporting and cultural facilities, more than 500 acres of parkland, pedestrian trail systems and several championship golf courses.
Baldwin - Butterflies & Blooms
Baldwin is a small town a little over an hour north of Toronto and about a half hour drive from the towns of Aurora and Newmarket. Although there is little here to attract visitors, if you are passing through the area (perhaps on your way to Kawartha Lakes, Beaverton, or Orillia) one of the highlights is the Butterflies and Bloom Butterfly Conservatory.Over 30 species of butterflies and moths can be observed in the indoor and outdoor gardens. Visitors can feel the butterflies land on the them or watch them move from flower to flower. Butterflies & Blooms is part of the Blue Willow Garden and Landscape Design Centre.
Aurora Heritage Centre (Aurora Museum)
The Aurora Heritage Centre is a local history museum in Aurora with artifacts from the 19th C and early 20th C. The Centre is located in Library Square and is also used for cultural events.
St Andrew's Valley Golf Club
St Andrew's Valley Golf Club in Aurora features 18 holes and is a par 72 course. St Andrew's Valley is one of the highest rated course in Canada.
Kleinburg, Canada
Kleinburg is a small town situated about 40km / 25mi north-west of the city center in the wooded Humber Valley.The town's main attraction is the McMichael Canadian Art Collection.
McMichael Collection
Anyone with an interest in art will certainly wish to see the McMichael Collection which is located in Kleinburg. Although started only a few decades ago, the collection encompasses a wide range of works by Canadian artists, including Tom Thomson and the Group of Seven, Emily Carr, David Milne, Lawren Harris and Clarence Gagnon. Also noteworthy are sculptures by North-west Coast Indians, and Inuit carvings and lithographs.
Unionville, Canada
Unionville is a small town located near Markham that was first settled by German pioneers in the 1970s. The Main Street has maintained much of its late 19th C charm, with many history homes and buildings. The main street is lined with shops and restaurants and holds an old town atmosphere.
Frederick Horsman Varley Art Gallery
Frederick Horsman Varley Art Gallery in Markham just outside of Toronto, features rotating exhibitions of local, national, and international works as well as work from the gallery's own permanent collection. The gallery offers guided tours, workshops, and courses for children and adults.
Map of Toronto Attractions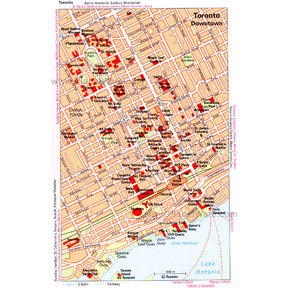 Toronto Map