Niagara-on-the-Lake Tourist Attractions
Niagara-on-the-Lake (pop.13,839) is a delightful small picture-book town at the northern end of the falls and on the shores of Lake Ontario. The first capital of Upper Canada, it was razed to the ground by American troops during the War of 1812 against the British, but rebuilt with all due speed.The town is full of pretty 19th C houses set in their lovely gardens. Queen Street, its main street, has a clock tower in the middle and many little boutiques, eating places and hotels. The Niagara Apothecary, built in 1866, is especially quaint.The little town has three theatres and is especially famous for its annual George Bernard Shaw Festival.During the summer months Niagara-on-the-Lake is very busy with tourists from all over the world.
Fort George National Historic Site
Fort George dates from the end of the 18th C and was erected here to protect the area against attack by the Americans in their revolt against the British. The Commander at that time was Major General Isaac Brock. During the skirmishing of the War of 1812/1813 the fort fell into the hands of the Americans who took it under fire from the lake. Abandoned in 1820, the fort was declared a National Historic Park in 1969 and has since been lovingly restored, with visitors flocking here every year to learn more about the history of the area. At the height of the tourist season there are enactments of the military drills, firing practice and cookhouse activities of the early 19th C.Fort George National Historic Site is located just outside the town of Niagara-on-the-Lake.
Shaw Festival
The Shaw Festival at Niagara on the Lake has been providing entertainment to visitors and locals alike since the early 1960s. The Shaw Festival puts on plays in three theatres, the Festival Theatre seating 856, the Court House Theatre seating 327, and the historical Royal George theatre built in 1915 and seating 328.Contrary to the Shaw Festival's name, the company puts on a variety of plays by the top writers in the Arts scene. Of course, there are always several plays each year by George Bernard Shaw, the festival's namesake.Different plays take place throughout the summer, tickets can sometimes be hard to come by for the most popular shows, be sure to check the website to see what is playing when you plan to attend.
McFarland House
McFarland House, located in Niagara-on-the-Lake, was built in 1800 from bricks made in a kiln on the property. During the War of 1812, the McFarland House was used as a hospital by both the British and the Americans.


Map of Niagara-on-the-Lake Attractions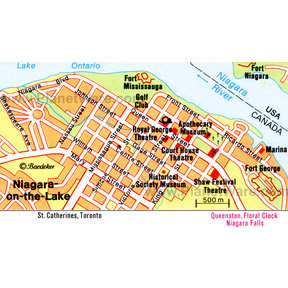 Map - Niagara-on-the-Lake