Surroundings, Halifax
There are a number of interesting sites and towns within a short distance of Halifax.
Related Attractions
York Redoubt National Historic Site
The first defense works outside Halifax are about 10km (6mi) away at Sandwich Point are now the York Redoubt National Historic Site. They were built in 1793 and substantially reinforced on the orders of Prince Edward, who had a tower built as part of his telegraph signaling system. The fort was later extensively renovated and named after Edward's brother, the Duke of York. It remained in military use until the Second World War, when it was the center for coordinating defense of the harbor and city against possible German attack.This command post, a labyrinth of underground passages below the tower, is open to visitors. The tower itself, with displays on Halifax's fortifications, has a splendid view of the harbor on a clear day.Along the walls of the redoubt there are 250mm (10in) front-loader cannons, and the adjoining buildings have such items on show as a furnace for heating up cannon-balls, and transport to take the hot cannon-balls to the cannons (cannon-balls were only heated for smooth-bore cannons).
Peggy's Cove, Canada
43km (27mi) south-west of Halifax lies Peggy's Cove, a particularly delightful little bay on the rugged Atlantic coast. Colorful houses and an old lighthouse give the pretty spot a special atmosphere. Peggy's Cove achieved sad notoriety in September 1998, when a Swissair plane crashed into the sea killing 229 people.Peggy's Cove is generally regarded as a must see in this region and in summer this little community is largely over run with tourists.
Uniacke Estate Museum Park
About 40km (25mi) to the northwest, on Mt Uniacke, in a beautiful setting in a park near a lake, stands Uniacke Estate Museum Park, a fine example of colonial architecture with a portico over two stories high. It was built between 1813 and 1815 by Richard Uniacke, Nova Scotia's Public Prosecutor from 1797 to 1830.Inside it looks exactly as it did in 1815 when furnished by the Uniacke family.
Dartmouth, Canada
Dartmouth is connected to the city of Halifax by two suspension bridges and by ferry. Although Dartmouth is today part of the Halifax Regional Municipality, the town has a long history and has its own unique character. The city dates to the mid 18th Century and is full of history.
Quaker House
The Quaker House in Dartmouth, built (c 1785) as a merchants' home, features period furnishings and a hand decorated entrance way plus construction phase interpretation panels in each room. The House is associated with the Nantucket Quaker Whalers who operated a whaling business in Dartmouth for a period of years. Herb gardens are located to the rear.Also of interest was the discovery of 4 separate shoes within its walls, a long reaching folk superstition. It was believed that if you embedded one shoe from a pair within the walls, the devil would be always looking for the other shoe and never find you!
Royal Canadian Legion Military Museum
Displays at the Royal Canadian Legion Military Museum in Dartmouth include uniforms and items from the Boer War, World War I, World War II, and the Korean War. Exhibits on the second floor include navy, army, air force, merchant navy and a hospital room.
Black Cultural Center for Nova Scotia
The Black Cultural Center for Nova Scotia in Dartmouth deals with the history and culture of blacks in Nova Scotia. Topics include the Migration, Slavery, the Underground Railway, the Maroons, and Black Inventors.
Bluenose II (Closed Temporarily)
THE BLUENOSE II IS UNDERGOING RESTORATION WORK AND WILL NOT BE OFFERING CRUISES IN 2011.Since 1937, the image of Original Bluenose has graced the Canadian dime.The "Bluenose II" was the winner of the International Fishing Trophy in 1921, which it held for the whole of its career, before being taken out of service in 1963 to act as a good will ambassador for Nova Scotia. In summer it does duty as a harbor sight-seeing schooner.
Surroundings Pictures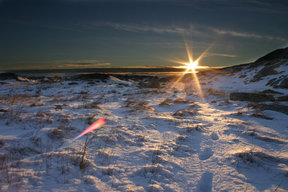 Map of Halifax Attractions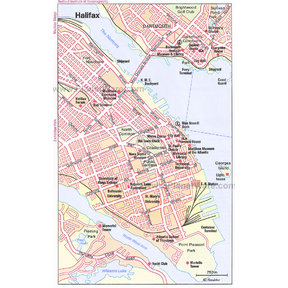 Halifax Map
More Halifax Attractions
Popular Destinations Nearby