Trinity College, Cambridge
Trinity College was established in 1546 by Henry VIII. It was created by the merger of several older colleges, including Michaelhouse (1324) and King's Hall, the latter dating from 1337 in the reign of Edward III to whom the Great Gate (1535) is dedicated. Beyond King Edward's Gate (1418), parts of the old King's Hall buildings are still identifiable.
Trinity Great Court, measuring 112yd/102m by 76yd/70m, is the largest in Cambridge and was laid out around 1600. The well (ca. 1610) used to provide the college's drinking water. A passage leads into Nevile's Court, completed in 1614. The chapel with its statues of distinguished scholars was begun under Mary Tudor.The library was built by Wren (1676-90). The old oak bookcases have fine limewood carvings by Grinling Gibbons.Trinity can claim more distinguished former members than any other college: statesmen including Balfour, Sir Austen Chamberlain, Stanley Baldwin and Nehru; poets and writers, among them George Herbert, Abraham Cowley, Dryden, and Edward Fitzgerald; the historian G. M. Trevelyan; the philosopher Bertrand Russell; and scientists such as Galton, Clerk-Maxwell, Thomson, Gowland Hopkins, Rayleigh, Eddington, Ernest Rutherford and Isaac Newton. Edward VII and George VI were also at Trinity.From New Court, or King's Court (1823-25), there is a bridge over the Cam, with a beautiful view of the Backs. A magnificent avenue of limes leads to the College Grounds.
Related Attractions
Trinity College Statues
Thomas Nevile, Master of Trinity from 1593 to 1615, removed the statue of Edward III from its position on the street side of the Great Gate and replaced it with one of Henry VIII as the college's founder and benefactor. Edward's statue now stands on the clock tower near the chapel. On the inner side of the Great Gate there are statues of James I, his wife Anne of Denmark, and their son, the young Prince Charles, while a statue of Elizabeth I stands above the Queen's Gate on the south side of the Court.
Map of Cambridge Attractions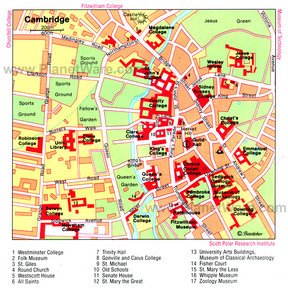 Cambridge Map
Popular Destinations Nearby