Old Cairo
Misr el-Oadima
There is much of interest to see in the southern district of Old Cairo, on the right bank of the Nile opposite the south end of the island of Roda. In the southern part of this district is the Qasr el-Shama quarter, mainly inhabited by Christians, which lies within the walls (still partly preserved) of the Roman fortress of Babylon.
Related Attractions
The Church of St Sergius is thought to be the place where the Virgin and Child sought refuge for a month on their journey into Egypt.
El-Moallaqa
At the southeast corner of the citadel, on the east tower of the south gate, is the Metropolitan Church of Sitt Miriam (St Mary), known as El-Moallaqa, the "Hanging Church", which was founded in the fourth century and rebuilt in the ninth century and on a number of later occasions. It was originally much larger, probably built over both gatetowers. The narthex leads into the nave (divided into four aisles, but originally with at least five), with the pulpit. There are three chapels shut off by old carved screens; the central one (the heikal or sanctuary) is dedicated to Christ, the one on the north to St George, the one on the south to John the Baptist.
Coptic Museum
Attached to El-Moallaqa is the Coptic Museum, founded in 1910 by Morkos Pasha Simaika, the largest and finest collection of Coptic material. The museum was erected at the beginning of the 20th century, using architectural elements from old Coptic buildings, and later extended. In addition to works of religious art, it contains Coptic arts and crafts and everyday objects from the third to the 18th century, particularly items of the early medieval period.This museum contains the largest collection of Coptic textiles "wool, linen and silk." It was the most important industry during the early Christian period in Egypt.
Mosque of Amr
Northeast of the Coptic Museum is the Mosque of Amr, believed to be the oldest in Cairo; the present rather dilapidated building, however, dates mainly from the 18th century. On this site Amr ibn el-As, Caliph Omar's General, built the first mosque in Fustat in the year 642; it was soon considerably enlarged, but was destroyed during the Crusades.
Monastery St Stephen
Farther to the northwest of the Mosque of Amr is the picturesque old Coptic Monastery of Abu Seifein.
Church of St Barbara
Within the area of the Roman citadel are a number of other old Coptic churches. A few houses away from Abu Sarga is the Church of Sitt Barbara, founded in the fifth century and rebuilt in the 10th-11th centuries.
Church of the Virgin
To the north of the Church of St Barbara is the Church of the Virgin, founded in the ninth century and rebuilt in the 18th.
Synagogue
In the Synagogue (Keniset Eliahu; until the eighth century a Christian church), the largest in Egypt, Elijah is said to have appeared and Moses to have prayed.
Map - Old Cairo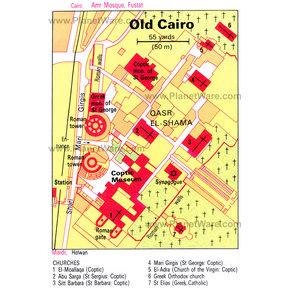 Map - Old Cairo
Map of Cairo Attractions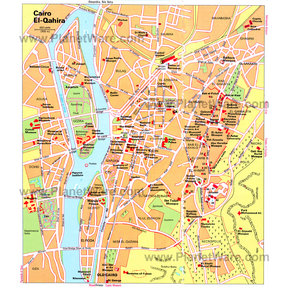 Cairo Map