Caernarfon Castle
Caernarfon Castle was begun by Edward I in 1283 as a seat for his eldest son, Edward of Caernarfon, the first Prince of Wales. The power and might of the throne is symbolized by the great stone eagles on the Eagle Tower and the layout of the castle walls and towers, which calls to mind the Roman wall at Constantinople. The massive building with its 13 towers and two gates belongs to the most impressive and externally best-preserved medieval fortresses in Europe.
Important Information:
Address:
Y Maes, Caernarfon LL55 2AY, Wales
Opening hours:
Mar 1 to Mar 31:
9:30am-5pm
Apr 1 to Jun 30:
9:30am-5pm
Jul 1 to Aug 31:
9:30am-6pm
Sep 1 to Oct 31:
9:30am-5pm
Always closed on:
New Year's Day (Jan 1), Christmas Eve - Christian (Dec 24), Christmas - Christian (Dec 25), Day after Christmas, St Stephen's Day, Boxing Day (Dec 26)
Entrance fee in GBP:
Family £15.35, Adult £5.25, Concession or reduced rate £4.85, Child 4 & under FREE
Useful tips:
Family (up to 2 adults and 3 children) Phone to inquire about seasonal special events.
Guides:
Audio-visual presentations available. Interpretive sessions sometimes available.
It occupies the site of an earlier Norman castle, washed by the waters of the River Seiont and the Menai Strait, while on the landward side it is protected by a moat. The building of the castle took almost 37 years: the Eagle Tower, Queen's Tower and Chamberlain Tower were built between 1285 and 1291, the Black Tower and Queen's Gate 1295-1301, the rest of the structure 1315-22. The castle has had an eventful history and withstood many sieges; more recently, it was the scene of Prince Charles's investiture as Prince of Wales in 1969, an event marked by a special exhibition.Audio-visual programs are presented in the Eagle Tower. The Queen's Tower houses the Royal Welsh Fusiliers Regimental Museum.
Related Attractions
Fire and Fantasy Festival (closed)
This annual festival takes place in late August within Caernarfon Castle. Concerts, floodlights and fireworks displays are the reasons this festival is called Fire and Fantasy.
Medieval Combat (closed)
This annual event takes place in late May and includes a reenactment of knights in medieval combat. Singing and dancing displays are also held at the Caernarfon Castle, the main venue for this festival.
Map - Caernarfon Castle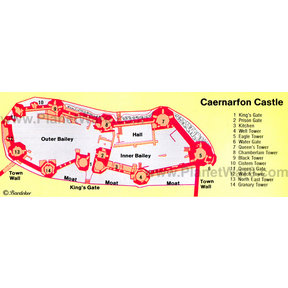 Map - Caernarfon Castle
Popular Destinations Nearby