University Church, Budapest
Egyetemi templom
The most beautiful Baroque church in Budapest is somewhat hidden, lying as it does in the south of Pest, away from the main shopping streets with its main front facing onto a narrow side street which scarcely does it justice. It was built in 1725-42 to plans by A. Mayerhoffer for the Pauline Order; its two mighty towers were not completed until 1771. The principal façade incorporates a triangular tympanum with representations of the hermits St Paul and St Anthony as well as the arms of the Pauline Order (a palm between two lions and a raven). Below the tympanum is a Virgin Mary seated on a terrestrial globe.
The church has a single nave with pilasters and enclosed side-chapels. The walls are clad in artificial marble. The frescoes on the barrel-vaulted ceilings depicting scenes from the life of Mary are by J. Bergl (1776); modeled on Italian Baroque art, the actual architecture of the ceiling is continued in the form of painting. The choir-stalls and the sculptures of St Paul and St Anthony on the High Altar were carved by J. Hebenstreit (1746). The copy of the "Black Madonna of Tshenstochau" in the centre of the superb High Altar was probably completed ca. 1720. Pauline monks from various workshops were responsible for the pulpit, pews, doors and sacristy cupboards which are decorated with intarsia work and contain valuable monstrances, goblets and costumes.
Related Attractions
Pauline Monastery
The former Pauline Monastery near the church was designed by Matthias Drenker (18th C). Since 1805 it has housed the Theological faculty of the first Hungarian University which was transferred to Pest in 1784. The library, built in 1775, can be recognised by the dome at the corner. The interior has a gallery running round it and two spiral staircases with pierced balustrades and banisters, and is furnished with some richly decorated bookcases. The ceiling fresco was created by Pietro Rivetti in 1803. The library's collection includes a large number of medieval codices.
Map of Budapest Attractions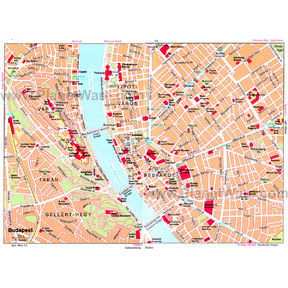 Budapest Map
More Budapest Attractions