Heroes' Square, Budapest
Hosök tere
The extensive Heroes' Square (Hosök tere), which also forms the western edge of City Woodland Park (Városliget.) The layout of the square was chiefly the work of the architect Albert Schickedanz, who was also largely responsible for the huge buildings of the Museum of Fine Art and the Art Gallery which flank the square.
Important Information:
Transit:
Buses 1, 4, 20, 30
Related Attractions
An impressive collection of art pieces is housed within Budapest's Museum of Fine Arts. The Museum features three floors of fine paintings, artifacts and sculptures.
Known as the Városliget, this city park covers more than 1 sq.km and contains the Zoological-Botanical Garden, Széchenyi Baths, Vajdahunyad Castle, two art museums, gardens, and other structures.
Millennium Monument
The Millennium Monument (Millénniumi emlékmu), unveiled at the end of the 19th C, is the dominant feature of the square. The 36m (118ft) high column is crowned by a figure of the Archangel Gabriel by György Zala. Around the plinth can be seen a group of horsemen in bronze representing the conquering Magyar Prince Árpád and six of his fellow warriors.On either side of the column colonnades extend in a semi-circle. Between the individual pillars stand statues of Hungarian rulers, and above the corner pillars are beautiful works in bronze by Zala. In front of the Millennium Monument stands a memorial to the Unknown Soldier.
Palace of Art (Art Gallery)
This splendid building in Classical-eclectic style, which was designed by Albert Schickedanz and completed in 1895, serves as an exhibition gallery for various artists.The gallery does not have permanent exhibits but the temporary exhibitions feature contemporary Hungarian and foreign artists with works in the fine arts, applied arts, photography, design, and the latest art trends.
Map of Budapest Attractions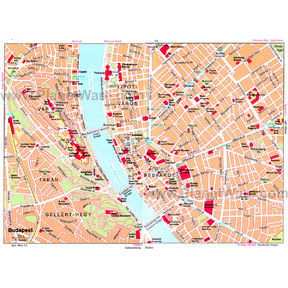 Budapest Map
More Budapest Attractions