Castle Vajdahunyad, Budapest
Vajdahunyad vára
After leaving City Woodland Park, along Hosök tere the visitor will see, on an island in the lake, a castle-like complex of buildings with a castle-gate, spires, gables and battlements. However, the medieval appearance is deceptive - like the neighboring Heroes' Square and a number of other buildings in Budapest, it was in fact built on the occasion of the Millenary Festival in 1896.
Important Information:
Opening hours:
10am-6pm; Closed: Mon
The architect was I. Alpár, whose monument stands outside the entrance. He tried to combine in the one building a number of architectural features characteristic of Hungary. The pseudo-medieval castle was modelled on that of Hunyadi, the conqueror of the Turks, which can be seen in the present-day Romanian town of Hunedoara. The castle entrance is flanked on the left by a copy of a tower in Upper Hungary and on the right by one reminiscent of its model in Sighisoara in Romania. At the back of the Romanesque wing on the east side of the castle courtyard is a chapel, the doorway of which is an exact copy of that of the Benedictine church in Ják, one of the most important medieval churches in Hungary. Stylistic elements from north Hungary and Sieburgen shape the character of the part of the building on the right behind the castle gate. A Renaissance wing forms a link with an imposing Baroque wing which houses the Agricultural Museum.
Related Attractions
Agricultural Museum
The Agricultural Museum (Mezogazdasági Múzeum) provides an excellent insight into the various facets of Hungarian agriculture. On display are implements of rural handicraft and machines for lightening the load of the farmer, documents about the raising of animals (especially horses, cattle, sheep and pigs), as well as forestry, hunting (there is a fine collection of trophies) and fishing. Periodic special exhibitions complement the museum program.
More Castle Vajdahunyad Pictures
Map of Budapest Attractions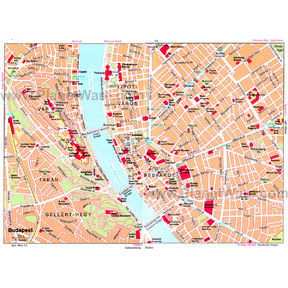 Budapest Map
More Budapest Attractions