Castle Palace, Budapest
Budvári Palota
The first castle was built in the 13th C on the south spur of Castle Hill. Its purpose was to provide protection from attacks by Mongols and Tartars. Unfortunately nothing remains of this building. Under King Karl Robert a smaller palace was erected. King Sigismund, who made Buda his residence, had a Gothic castle built, which was considerably extended, in Renaissance style, under Matthias Corvinus.
Address:
Buda Palace, Buildings A, B, C, D - Szent György tér 2, Budapest, Pest 1014, Hungary
Opening hours:
10am-6pm; Closed: Mon
Entrance fee in HUF:
Adult Ft800.00, Senior Ft400.00
Disability Access:
Full facilities for persons with disabilities.
Related Attractions
Budapest Historical Museum
The Budapest Historical Museum (Budapesti Történeti Múzeum; City Museum; Castle Museum) is housed in the south wing of the castle. It contains highly interesting documents, ceramics, wrought-iron work, textiles, household utensils and other objects which provide a comprehensive picture of life in the independent towns of Óbuda, Buda and Pest up to 1872.In the Renaissance Room is a picture showing Matthias Corvinus and Beatrice of Aragon, his second wife. In the Gothic Room are fine sculptures dated between 1370 and 1420, which were discovered during excavation work in 1974.Other Gothic sculptures can be seen in the lower chapel. A beautiful 15th C triptych has been set up in the choir of the chapel.
Hungarian National Gallery
The Hungarian National Gallery (Magyar Nemzeti Galéria) is housed in the main wing of the castle facing the Danube. A wide cross-section of Hungarian sculpture and painting is on display, ranging from the time of the Magyar invasion through the Gothic, Renaissance and Baroque periods to the richly productive 19th and 20th centuries. The sculptures and panel paintings from the medieval and Renaissance periods are of particular interest, as are the Late Baroque works and 19th C paintings and sculptures by Bálint Kiss, Mór Than, László Pál, Mihály Munkácsy, Alajos Stróbl and György Zala.Also very worthy of study are pictures painted in the 20th C, including works by Béla Czóbel, József Egry and József Rippl-Rónai.
Museum of the Hungarian Workers' Movement
The Museum of the Hungarian Workers' Movement (Magyar Munkásmozgalmi Múzeum) is housed in the northern wing. It contains interesting documents, materials and objects from workshops as well as furnishings from worker's dwellings which illustrate the life and the culture of the Hungarian workers since the middle of the 19th C.
Museum of Contemporary Art - Ludwig Museum Budapest
The art collector couple, Peter and Irene Ludwig provided contemporary art collections that provide an overview of the past 50 years of universal art and contemporary Hungarian art.
Museum of Military History
The Museum of Military History contains items, from weapons and uniforms to coins, flags and artworks. Weapons include arms from before the Turkish wars up to the 20th century.
More Castle Palace Pictures
Map of Budapest Attractions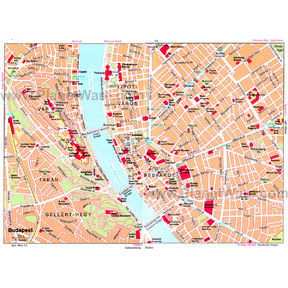 Budapest Map
More Budapest Attractions