Southern Districts, Brussels
A number of minor regions, the Forest, Saint-Gilles, Ixelles, Uccle and Auderghem, are all found in this region of Brussels.
Related Attractions
Forest, Belgium
The suburb of Forest lies sprawled across the slope of the Senne valley 3km/2miles south of the city center. The Parc de Forest and Parc Duden are the remains of a large forest which was once Charles V's hunting preserve.Forest is considered the highest point in Brussels and has a church built at one hundred meters above sea level, St Augustine. The church and town hall were both built in Art Deco style.
Saint-Denis (Sint-Denijs)
Built in 1250 on the site of an earlier (seventh C.) chapel, the small church of Saint-Denis (Square Omer Denis) contains the 11th C. tomb of Alène, daughter of a non-Christian nobleman from Dilbeek. Incensed by learning of his daughter's secret baptism he is said to have beaten her to death, only to become a convert to Christianity himself as a result of miracles witnessed at her grave.
Saint-Gillis
Horta Museum
Victor Horta's house (Rue américaine/Amerikaansestraat), itself a masterpiece of Art Nouveau architecture (1898-1900), has been turned into a museum celebrating the life and work of the movement's leading Belgian exponent. The staircase is magnificent.
Uccle
Musée van Buuren
The museum at Avenue Léo Errera No. 41, home of art collectors David and Alice van Buuren, is of great interest on two counts, the first being the house itself with its genuine Art Déco furnishings. The second of course is the superb art collection complementing the furniture. Among the finest items are Pieter Bruegel the Elder's "The Fall of Icarus", paintings by Patinir, Fantin-Latour, Permeke, and van de Woestyne, sculptures by Minne and the collection of delftware.
Auderghem (Oudergem)
This southeastern district of Brussels borders the Fôret de Soignes. The Etangs de Rouge Cloutre (Rood Klooster) are a reminder of the priory which once stood here, where in 1482 the painter Hugo van der Goes died. The Château de Val Duchesse in the large park just to the north is best known for being the place where the original Treaty of Rome setting up the EEC (now the EC) was made ready for signing.
Jean Massart Experimental Garden
A variety of conifers, wild flowers and medicinal plants are found in this garden by Jean Massart.
Map of Brussels Attractions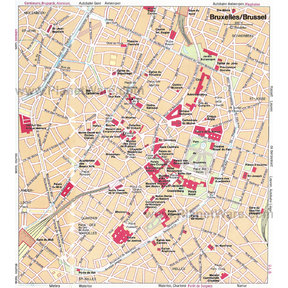 Brussels Map
More Brussels Attractions