Saint-Michel / Sint-Michiel, Brussels
Half way up the hill on the way from the Grand' Place to the Upper Town stands the Cathédral Saint-Michel (Sint-Michielskathedraal). Dedicated to St Michael and St Gudula, the patron saints of Brussels, it has been the episcopal church of the Mechelen-Brussels diocese since 1962. First founded in 1225 the white building in plain Brabant Gothic style was to all intents and purposes complete by the end of the 15th C. The facade is impressive, rising majesticaly above a broad flight of steps and crowned with twin 69m/226ft high towers designed by Jan van Ruysbroeck.
Saint-Michel (Sint-Michiel) Map
Important Information:
Address:
Parvis St Gudule, B-1000 Brussels, Belgium
Opening hours:
Apr 21 to Sep 20:
8am-7pm
Sep 21 to Apr 20:
8am-6pm
Saint-Michel (Sint-Michiel) Highlight
Saint-Michel Interior
The beautifully proportioned interior (108m/354ft by 50m/164ft) is exceptionally pleasing to the eye. As well as being lavishly furnished the church has some outstanding 16th-17th C. stained glass windows, the finest - all by Bernard van Orley - being those in the transepts (1537-38) depicting Charles V and Isabella of Portugal (south) and the Hungarian royal pair Louis II and Mary (north), and in the Chapel of the Holy Sacrament to the left of the choir illustrating the story of the "Miracle of the Host" (1534-39). The piers of the nave are adorned with figures of the Twelve Apostles by Fayd'herbe and Duquesnoy the Younger while towards the right aisle is a projecting carved wooden pulpit by Verbruggen (1669). Under the very beautiful triforium in the choir (1215-65) are the tombs of John, Duke of Brabant and his wife Margaret of York (left), and of Archduke Ernst of Austria. During July and August six magnificent tapestries by van der Borght (1785) are usually hung in the choir. In the ambulatory to the right of the choir there is a statue of the Virgin by Quellin the Elder (1645), and to the left of the choir, beside the Chapel of the Holy Sacrament, a memorial tablet to the Brussels artist Roger van der Weyden who is buried here.
Map - Saint-Michel / Sint-Michiel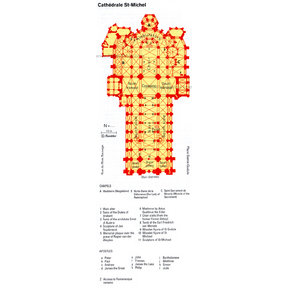 Map - St Michael's Cathedral
Map of Brussels Attractions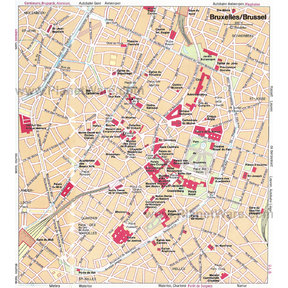 Brussels Map
More Brussels Attractions