Sablon / Zavel, Brussels
The area to the southwest of the Place Royale, the Sablon (Sands), was originally a barren and desolate piece of ground used as a cemetery for the poor. In the 16th C. members of the Brussels gentry began to build themselves houses there, with the result that it gradually developed into an elegant residential district.
Related Attractions
Petit Sablon (Kleine Zavel)
In the Place du Petit Sablon (Little Sand), a block or two along the Rue de la Régence from the Place Royale, the small garden is surrounded by an unusual railing with 48 small columns, each topped by a statuette representing one of the Brussels guilds. Statues of Counts Egmont and Hoorn and some of the humanist scholars adorn the center of the Place.
Egmont Palace
Southeast of the Place Petit Sablon stands the Palais d'Egmont (Palais Arenberg), now used for state receptions.
Musée des Instruments de Musique
The museum in the Conservatoire de Musique boasts one of the finest and most comprehensive collections of musical instruments to be found anywhere. More than 125,000 exhibits gathered from over the centuries, and all over the world, testify to mankind's love affair with music.There are over 1,200 instruments on display at any given time.
Eglise du Sablon (Zavelkerk)
The 15th-16th c. church of Notre-Dame du Sablon (Onze Lieve Vrouw op de Zavel), generally considered one of the loveliest Late Gothic churches in Belgium, was built as a replacement for a small chapel first erected on the sandy expanse of the Sablon by the Crossbowmen's Guild in 1304. The interior of the church is breathtaking, in particular because of its marvelous stained glass. Also of interest is the burial chapel of the Tourn und Taxis family, partly the work of Luc Fayd'herbe. Kept in the sacrarium is a figure of the Virgin, a copy, so legend has it, of a Madonna brought to the chapel in 1348 by an Antwerp woman, Baet Soetens, to whom the Virgin had appeared.
Grand Sablon (Grote Zavel)
Below the Eglise du Sablon, the Place du Grand Sablon (Grote Zavel) slopes down to the Lower Town. The area is dotted with antique shops and antiquarian bookshops. Brussels' best-known flea market is held on the square itself every Saturday.
Sablon (Zavel) Pictures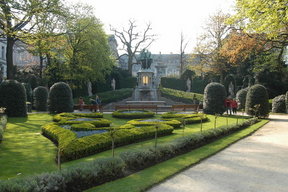 Map of Brussels Attractions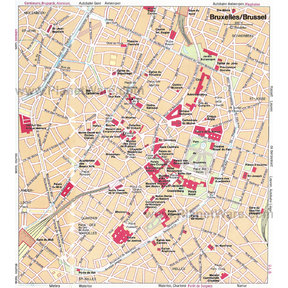 Brussels Map
More Brussels Attractions