Parc du Cinquantenaire / Jubelpark, Brussels
The Parc du Cinquantenaire, the entrance to which is just a short walk from the Metro station Schuman, was established in 1880 to commemorate the country's 50th anniversary. Its centerpiece is the monumental Palais du Cinquantenaire, the two wings of which, linked in 1905 by a massive triumphal arch designed by the French architect Charles Girault, house two of Brussels' most interesting museums.
Transit:
Metro: Schuman, Merode; Bus: 20, 28, 36, 80; Tram: 62, 81.
Related Attractions
The Royal Art and History Museum in Parc du Cinquantaire is home to one of the most extensive tapestry collections in the world. Other departments in the museum include antiquities and Islamic, Oriental and Christian Art.
Belgian Army Museum and Museum of Military History
The Belgian Army Museum and Museum of Military History (Koninklijk Museum van het Leger en van de Militaire Geschiedenis) occupies the north wing of the Palais Cinquantenaire. It provides an overview of the development of military technology and of the major campaigns fought on Belgian soil.The museum has three principal sections: Belgian military history (documents, uniforms and weaponry from the Middle Ages to the present day, including a most comprehensive collection of medieval arms and armor); the Armored Vehicle Hall with artillery, tanks etc. from the two World Wars; and the Air Section (Brussels Air Museum) with a collection of aircraft from World War I onwards.The Brussels Air Museum's high point is its collection of original aircraft from World War I.
Autoworld
Established in 1986 and housed in the imposing Palais Mondial (1880) where, between 1902 and 1934, the famous Brussels motor car and motor cycle exhibitions were held, Autoworld comprises a display of some 550 vintage cars and other vehicles. Most come from private collections and span the whole range of marques starting from the very earliest days of motoring.Among them are all the best known names including Mercedes-Benz, Horch, Opel, Minerva, Cadillac, Rolls Royce, Hispano Suiza, Ford, Humber, Bentley, Packard and Oldsmobile. A collection of American presidential limousines is one of Autoworld's special attractions.
Map - Parc du Cinquantenaire / Jubelpark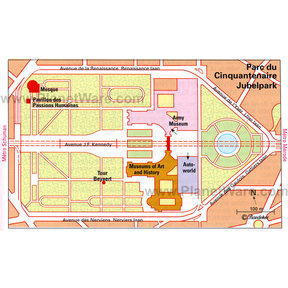 Map - Parc du Cinquantenaire lubelpark
Map of Brussels Attractions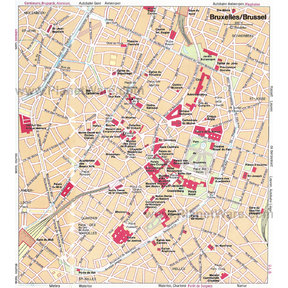 Brussels Map
More Brussels Attractions