Other Sights
Related Attractions
Art Nouveau
At the beginning of this century Brussels became a focal point for the Art Nouveau movement, Victor Horta, Henry van de Velde and Philippe Wolfers being among the architects and artists whose genius enriched the city with houses and objets d'art. The Brussels Tourist Office arranges tours of the most beautiful Art Nouveau buildings, as does the Organization ARAU and Arcadia.
Art in the Metro
The 33km/20mile combined network of the Metro and Prémétro provides the quickest and most convenient method of transport, trains running from 6 am to midnight. The Brussels Metro is quite exceptional. Many of the stations have been decorated by well-known contemporary artists, the most recent being Bockstael, now enlivened with characters from "Tintin" by Hergé. In addition to the Metro there is a tram service operating mainly outside the "Pentagon" and a very extensive bus network. Tram stops have red and white signs, bus stops blue and white ones. "Request only" stops are marked "Sur demande". Tickets can be bought at ticket machines in Metro stations or on the trams and buses themselves. Timetables are available from tourist information offices.
Food Market
This busy Food Market operates on Sunday from 8 a.m. to 1 p.m. It is located near the South Station and it offers a variety of produce, fruits, flowers, spices, olives, peppers, and more.
Maatschappij voor het Intercommunaal Vervoer te Brussel - STIB-MIVB
The first line of the STIB-MIVB, the metro in Brussels was opened in 1976. It is made up of 3 lines with 40.5km of track. There are 51 stations. The system has a flat fare structure. During peak hours trains run every six minutes.
Royal Observatory (Heisel Planetarium)
The Royal Observatory in Brussels offers public observing and a small display area. The associated Heisel Planetarium, built in 1973, has a 360 seat theater offering public shows.
Museumstoomtrein der Twee Bruggen
Museum steam train between Brussels and Willebroek, based at Vilvoorde.
Vilvoorde
The Museumstoomtrein that runs between Brussels and Willebroek stops here.
Map of Brussels Attractions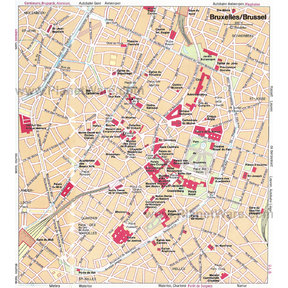 Brussels Map
More Brussels Attractions