Ixelles / Elsene, Brussels
The suburb of Ixelles extends south of the ring boulevard, its main shopping street being the Chaussée d'Ixelles (Elsenesteenweg), a busy thoroughfare.
Important Information:
Transit:
Metro: Porte de Namur, Place Louise; Tram: 81, 93, 94.
Related Attractions
Musée communal des Beaux-Arts
The Musée communal des Beaux-Art (Gemeendemuseum voor Schone Kunsten) in the Rue Jean van Volsem off the east side of the Chaussée possesses an excellent collection of Belgian and French paintings and of Belgian Impressionist paintings in particular.
Brussels - Abbaye de la Cambre
In 1200, in what was then a small valley between the Etangs d'Ixelles (the little lakes now situated at the end of the Chaussée d'Ixelles) and the Bois de la Cambre which today forms an oasis of tranquility amidst the city traffic, Cistercian nuns founded an abbey. It was destroyed in the 16th C. but then rebuilt. Now, set in lovely French gardens, it houses the National Geographical Institute and an art college. The former abbey church (14th C.) is a slender, elegant building with Baroque vaulting. Inside can be seen a painting by Albert Bouts ("The Mocking of Christ") and the shrine of St Boniface, a 13th C. Bishop of Brussels. The windows of the cloister are decorated with the arms of over 40 abbesses and nuns.
Bois de la Cambre (Kamerenbos)
The Bois de la Cambre in the very south of Ixelles is one of the favorite recreation areas close to Greater Brussels. The 24 ha/59 acre park has a lake, restaurants and broad expanses of grass for games or merely for resting. The wide and splendid Avenue Louise (Louizalaan) links the park directly with the city center.
Cemetery of Ixelles
Charles de Coster lies buried in the cemetery on Ixelles' boundary with Etterbeek. A figure of Till Eulenspiegel decorates his grave.
Ixelles (Elsene) Pictures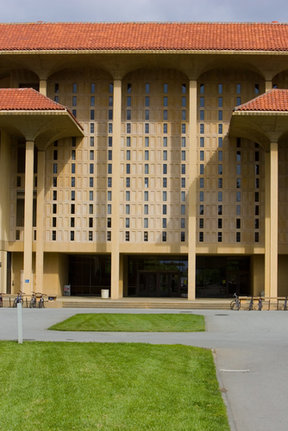 Map of Brussels Attractions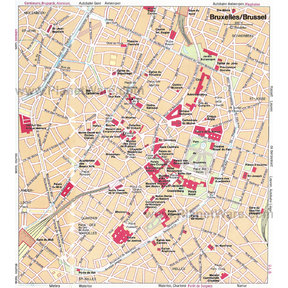 Brussels Map
More Brussels Attractions