Sint-Salvatorskathedraal, Bruges
From the Onze Lieve Vrouwkerk the short Heilige Geeststraat makes its way past the Bishop's Palace (16th-18th C.) to Sint-Salvatorskathedraal, the oldest parish church in Bruges and a cathedral since 1834. Originally founded in the 10th C. most parts of the present building date from the 12th and 13th centuries.The fortress-like 99m/325ft-high west tower was constructed in several phases, the lower Romanesque portion between 1116 and 1227 and the brick section between 1183 and 1228.Building continued in the 15th C. and again in the 19th C., the Neo-Romanesque upper part being added between 1844 and 1846 and the steeple in 1871. Over the centuries the cathedral has survived four fires as well as the iconoclastic fury.
Sint-Salvatorskathedraal Map
Sint-Salvatorskathedraal Highlights
Sint-Salvatorskathedraal Interior
The 101m/331ft-long interior, distinguished by its harmonious proportions, contains some noteworthy furnishings. Outstanding are the Baroque rood-screen with a figure of God the Father by Artus Quellin the Younger, the 15th C. choir stalls embellished with the coats of arms of Knights of the Golden Fleece and, above the stalls, Brussels tapestries made in 1731.The cathedral organ is famous for its magnificent case.
Sint-Salvatorskathedraal Museum
There are priceless art treasures in the cathedral museum off the right transept. In the cloister are six fine brass 14th-16th C. tomb plates. Displayed in the various rooms are liturgical accouterments and several superb Old Flemish paintings including a triptych "Martyrdom of St Hippolytus" by Dirk Bouts, the left wing of which is thought to be by Hugo van der Goes, and a polyptych by Pieter Pourbus with a Last Supper on the center panel.
Related Attractions
Around Sint-Salvatorskathedraal
Steenstraat
Running between the cathedral and the Markt, Steenstraat with its row of typical Bruges gable gildehuizen is one of the loveliest of the city's streets.
Hof van Watervliet
About halfway along towards the Markt Steenstraat opens onto Simon Stevinplein, named after the mathematician Stevinus, born in Bruges in 1548 and sometime adviser to Maurice of Nassau. Branching off from the south side of the square is Oude Burg, at the near end of which stands the Hof van Watervliet, a complex of restored old buildings dating from the 16th C. Over the years the Hof's illustrious residents have included Erasmus of Rotterdam and the exiled Charles II.
Blindenkapel
West of the cathedral lies the large square known as t'Zand and a short distance north, the Blindenkapel. Erected in the 14th C. the chapel boasts a magnificent pulpit (1659) and a gilded statue of Our Lady of the Blind.
Smedenpoort
The 14th C. Smedenpoort was medieval Bruges's southwest town gate. The bell would be rung when the gate was to be shut.
Waterhuis
Following the moat south from the Smedenpoort leads to the 14th C. Waterhuis on which the town used to rely for its water supplies.
Map of Bruges Attractions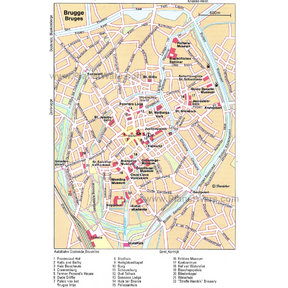 Bruges Map
More Bruges Attractions
Popular Destinations Nearby