Memlingmuseum, Bruges
Occupying the former chapel is the Memlingmuseum where six exquisite masterpieces by Hans Memling (ca. 1430-94) are on view, each a pearl of Old Flemish art. Outstanding even among these is the Reliquary of St Ursula (1489), recognized to be one of the master's most important works. Six scenes from the legend of the saint decorate the reliquary: the arrival in Cologne; the entry into Basle prior to crossing the Alps; the Pope's welcome in Rome with the baptism of Ursula's companions; the re-embarkation at Basle for the return to Cologne; the massacre of the 11,000 virgins by the Huns; the Hun chieftain's proposal of marriage and Ursula's death.
Important Information:
Address:
Mariastraat 38, Belgium
Opening hours:
Apr 1 to Sep 30:
9:30am-12pm, 2pm-6pm
Oct 1 to Mar 31:
9:30am-12pm, 2pm-5pm; Closed: Wed
Entrance fee in EUR:
Adult €8.00, Concession or reduced rate €5.00, Child 13 & under FREE
Guides:
Audio-visual presentations available. Guided tour available as optional extra.
Scarcely less famous is the "Mystic Marriage of St Catherine", painted for the so-called St John altar. Completed in 1479 it depicts Saints Barbara and Catherine (portraits it is thought of Mary of Burgundy and Margaret of York) flanked by St John the Baptist and St John the Evangelist. The four other works by Memling in the museum are the Maarten van Nieuwenhove diptych of 1487 (with on one wing the Virgin handing the Christ child an apple and on the other a superb portrait of the donor), a triptych (1479) with the "Adoration of the Magi" and the donor Jan Floreins, another triptych with the "Descent from the Cross" (1480) and finally the portrait of Sibylla Zambetha (1480).The museum also contains works by other Old Flemish masters (e.g. Blondeel and Van Oost) as well as items of applied art (antique).
Related Attractions
Sint-Jansspitaal
Immediately opposite the west door of the Onze Lieve Vrouwkerk stands the oldest building in Bruges, the Sint-Jansspitaal founded in the 12th C. The tympanum over the bricked up gate to the left of the Mariastraat entrance, embellished with reliefs showing the Virgin, bears the date 1270. Inside the ancient building, in what were once wards, an exhibition of documents, surgical instruments etc. charts the hospital's history. The old dispensary adjacent to the wards has also been preserved.
Map of Bruges Attractions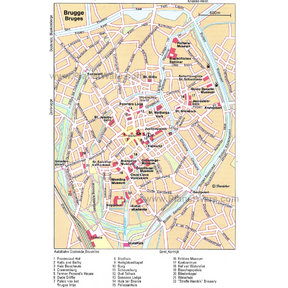 Bruges Map
More Bruges Attractions
Popular Destinations Nearby