Gruuthusemuseum, Bruges
A mansion, beautifully furnished in different period styles, now houses the quite exceptional Gruuthusemuseum, a superb collection of antiques and applied art occupying in all 22 rooms. Particularly eye-catching are the lacework, carvings, tapestries and weaponry, also the delightfully restored and completely authentic old Flemish kitchen and the dispensary.
Opening hours:
9:30am-5pm; Closed: Mon
Always opened on:
Easter Monday - Christian, Pentecost Monday (Whit Monday) - Christian
Entrance fee in EUR:
Adult €6.00, Concession or reduced rate €4.00, Child 13 & under FREE
Related Attractions
Heren van Gruuthuse
On the left at the far end of the Dijver stands an attractive ensemble of 15th C. buildings comprising what was once the mansion of the "Heren van Gruuthuse". Here in 1471 the fugitive English king Edward IV took shelter. The original "heren" were not noblemen at all but merchants with a monopoly on the trade in "gruut", the dried herbs. In summer the charming courtyard with its vine covered colonnades and neighboring Onze Lieve Vrouwkerk for a backcloth, becomes the venue for an atmospheric son-et-lumière show. The courtyard can also be reached direct from the Groeninge Museum by first crossing Arentspark and then the picturesque Bonifatiusbrug, beside which can be seen a bust of Juan Luis Vivés, the Spanish humanist.
Brangwynmuseum
The Brangwyn Museum, in the 18th C. Arentshuis next door to the Gruuthusemuseum, has porcelains, pewter ware, ceramics, mother-of-pearlware and a charming collection of views of old Bruges as well as an exhibition of paintings and drawings etc. by the Bruges-born English artist Frank Brangwyn (1867-1956).
Map of Bruges Attractions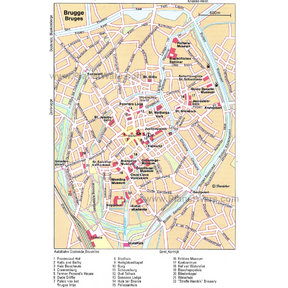 Bruges Map
More Bruges Attractions
Popular Destinations Nearby