Events, Bruges
Visitors to Bruges can be treated to special events throughout the year.
Related Attractions
Holy Blood Procession
This annual religious event takes place on Ascension Day (the 40th day after Easter). This is the most important event on the Bruges cultural calendar. The parade is made even more important because the Bishop carries a shrine said to hold the Holy Blood brought from the second crusade by the Count of Flanders. Residents dress in elaborate costumes to accompany the shrine through the streets of the town.
Early Music Festival
This annual two-week festival runs from late July to mid-August and includes choral and chamber concerts, piano and organ recitals, lectures and art exhibitions. Two events take place daily in venues including the Provincial Palace, Ryelandt Hall and various other historic cathedrals and buildings in the city.
Festival of the Canals
This festival is held every three years during weekends in late August. Traditional events showcasing the Middle Ages and Baroque period take place on the Bruges and Vurg Square canals. Over 600 musicians, dancers and actors provide various day-long performances.
Arriaga Festival
This annual week-long festival takes place in late July and includes performances by chamber orchestras and recitals by various pianists. A different event is held every evening in the Swaene Hotel.
Pageant of the Golden Tree
The superb historical Pageant of the Golden Tree which commemorates the marriage in 1468 of Charles the Bold and Margaret of York takes place every fifth year (the next being in 2000).
Zandfeesten am 't Zand
Flanders' largest antiques and flea market; each for one day at the beginning of July, mid Aug. and end Oct. 7 a.m. - 1 p.m.; see information at the local tourist information office.
Canal Festivals
Canal festivals during which the waterways are attractively lit are held from time to time in August at no particular intervals.
Events Pictures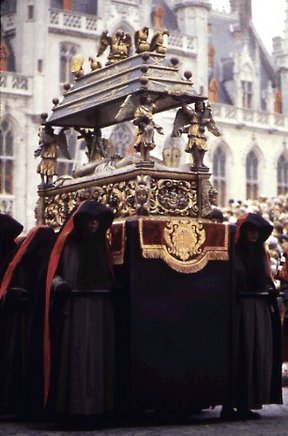 Map of Bruges Attractions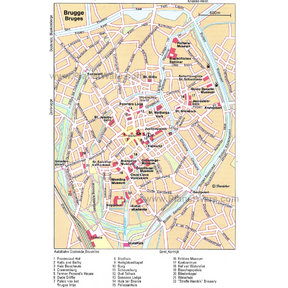 Bruges Map
More Bruges Attractions
Popular Destinations Nearby